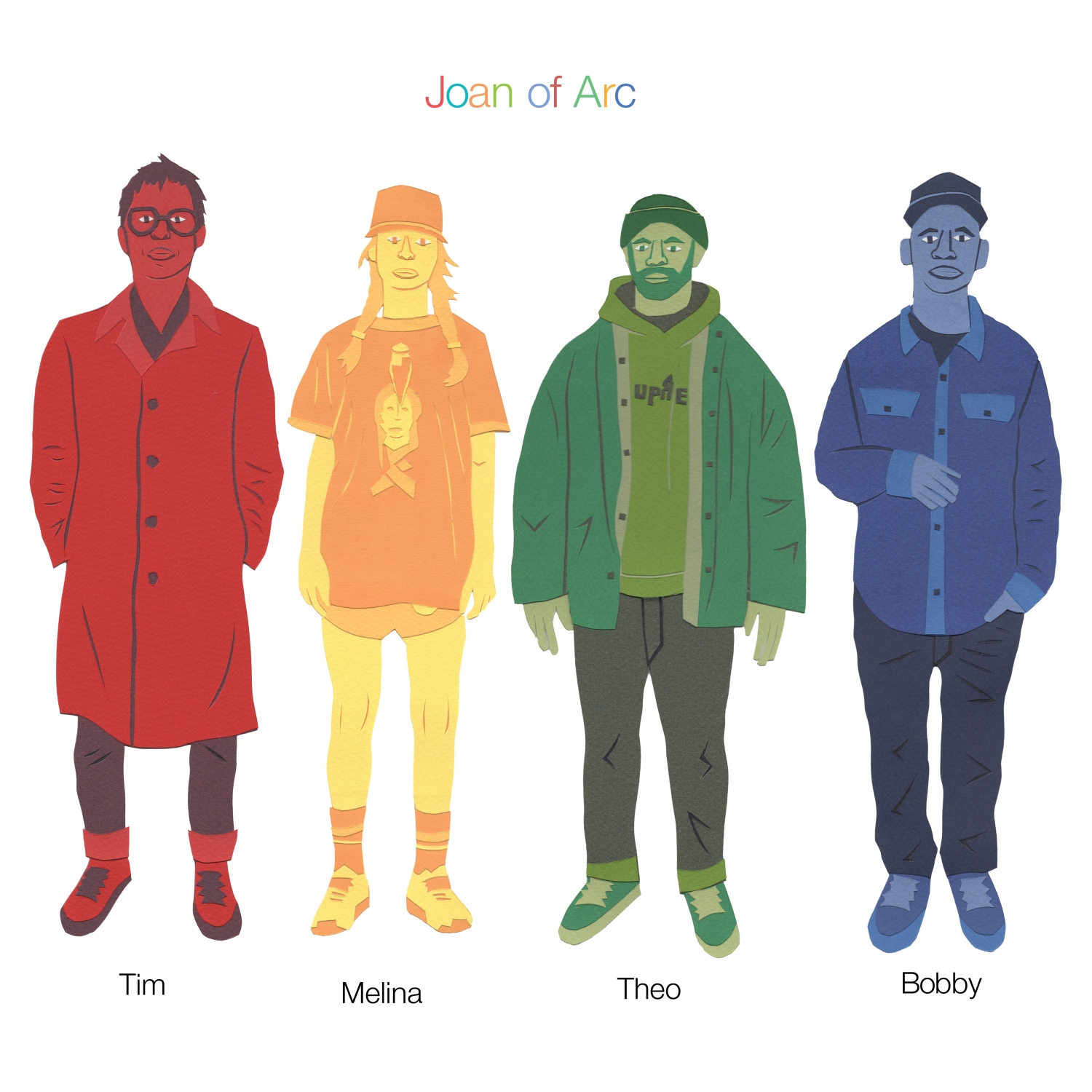 3 December 2020
In the year that followed Joan of Arc's last release, we saw the debuts of Good Fuck and Aitis Band; the former a duo of the now-wed Tim Kinsella and Jenny Pulse, the latter a quartet comprised of Melina Ausikaitis, Theo Katsaounis, Bobby Burg, and Ray Borchers. Tim, Melina, Theo, and Bobby (and Jeremy Boyle) altogether spent more than half of the last decade as the recognizable Joan of Arc, a Chicago musical collective whose lineup—apart from Kinsella at its epicenter—remained for the longest time in a constant state of flux. The full list of names is too vast to recount here, which made curious the relative stasis of its membership for the past few albums. All the more curious was the group's announcement of their final album named after its four primary players, Tim Melina Theo Bobby. That's right, final.
In a rare act of concession and straightforwardness, "Destiny Revision" will be the song you tear up to for as long as this sudden—to fans—breakup lingers. Joan of Arc have seen their share of final records and shows in the past, but what makes this time a little more certain than the rest is, well, its inherent certainty. Throughout all its gestation, from conception to recording to mixing and finessing, this LP was always intended to be a final statement, so the story goes. Plans change, and Kinsella sings mournfully this act of contrition amid calm guitars that recall their earliest, most sonically distanced records. This song is to Joan of Arc what "Salad Days" is to Minor Threat, not just in its "where'd the time go" spirit but also in the sense that you're hearing what is normally such an unpredictable bunch of hellions provide their own elegy and it's shockingly sweet.
"Something Kind" finds use for a jam left over from the 1984 sessions with new vocals from Ausikaitis, delivering more of her patented hauntings. Between the lyrical content and instrumentation, this is easily the most intense moment on the LP. The blunt gender role reversal imagery ("In the dawn of something kind / I'm the one taking you from behind / You have the tits and periods / And you're the one who gets pregnant") is matched by the radical, distorted heights of its players. Could this be the hardest Joan of Arc has ever… rocked-and-rolled? It oozes attack-and-release swagger. Ausikaitis returns to the fore later on in the penultimate "Rising Horizon", a dipole to her earlier outing. Accompanied by wry, hiccupping guitar, she daydreams her way across the verse, like an unsupervised Jeliza-Rose in Tideland, alighting on a heart-sinking refrain that gets even grander and more beauteous in its second time around. Despite what they may say, these four know how to land a sentimental blow.
After frontloading this album with its more obvious "hits," the group moves into familiar ground for its middle section. Wordless grooves "Land Surveyor" and "The Dawn of Something" celebrate the recording processes the roster has embraced since He's Got the Whole This Land Is Your Land in His Hands, relying on joyful studio spontaneity, resulting in bass-and-keyboard dub movements and electronic raga cacophony, respectively.
Instructions for the common essay will always advise that you state your thesis upfront and reinforce your way to a conclusion. There may be two theses here and neither of them occur at the beginning, but Joan of Arc has never been about instant gratification. One takes place at the very end during "Upside Down Bottomless Pit", a closer both odd and fitting in its aural discomfiture. Its final line, "There's no sidelines, there's no out of bounds," serves as an ethos for everything the outfit has accomplished in its tenure. I can think of few other acts that have attracted vitriol in the way that Joan of Arc have, in part (I'm guessing) due to their focus on obscuring comparison to the founders' past in Cap'n Jazz and the maligned emo scene he unwittingly helped popularize. Assumptions be damned, because Kinsella and company only ever cared about expression through pushing limitations; progression in favor of naked experimentalism. It just so happens that some of the realest works are realized in that approach.
"Cover Letter Song" boasts the greater takeaway. Kinsella reads off his curriculum vitae overtop downtempo drum machine beats and dancefloor buildup sirens. It's an ordinary litany, rife with blue collar tasks. "And I wrote songs, and I wrote / 'Cause I got dreams and I got goals," he impresses, finally asserting, "I'm gonna be the next Tim Kinsella," a message that anyone making art can appreciate. This disparate body of incredible music from Kinsella and collaborators has gotten to this point on the back of being an everyman outside of the scene. There are musicians that inspire you to pick up a particular instrument. Then there are those whose ethic alone inspires you to make art in general, and it's that precise sentiment that every member of the Joan of Arc family tree lives out loud. Under any habitual circumstances, you may be the artist of your own residence. Thank Joan of Arc for teaching us that. They may have reached a career end, but they continue to be unstoppable.
You may purchase the record here.