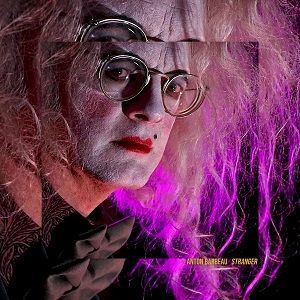 9 December 2022
Amazingly prolific singer/songwriter Anton Barbeau has long resided on the eccentric end of the pop music spectrum. But, as is the case with kindred spirits like Robyn Hitchcock or Syd Barrett, that doesn't mean he's an unrefined absurdist. Most of the time he uses his seemingly stream-of-consciousness wordplay to convey real emotions, buoyed by his always instantly appealing melodies.
Take, for example, the pair of tracks that lead off his latest album Stranger. Both "Ant Lion" and the title track concern readjustment to life in small-town America after years living abroad – the title track in particular really hones in on the difficulty of being forced back home by a global pandemic. Existential dread takes hold on the otherwise ebullient "I C U," and the wry but rocking "Cellar Bar" ("I'm coming for you just as soon as I tune my guitar") wrangles with the notion of keep on keepin' on – but the lovely "Farm Wife" proves that beauty still reigns. He expands his reach beyond his own circumstances on "Death and Divorce," but, as usual, makes his approach so tunefully that light trumps darkness.
Indeed, while Barbeau's records always tend to be irrepressibly melodic, he seems to really be on his game here: besides the aforementioned, "Sugarcube City, "Dollis Hill Butchers" and the weird but brilliant "Quick To the Basement" revel in his easy ability to spit out hooks. Barbeau lets it all hang out here, both musically and emotionally, and it leads to Stranger being one of his very best records.