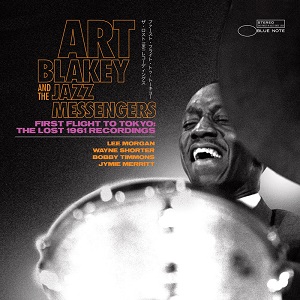 4 November 2021
It's extremely difficult to pin an evolution in jazz to one person. So while it may not be accurate to claim that Art Blakey and his Jazz Messengers invented hard bop, they certainly epitomized it. The drummer/bandleader and the remarkable lineups he convened set standards for others to follow, not the least of which were his many, many sidepeople who went on become notable in their own rights. The Messengers were major jazz stars almost from their inception.
The band was at its peak from the late fifties to the early sixties. During that time, following a poll that declared the Messengers as the American group most desired to be seen in concert by Japanese audiences, Blakey took the then-current lineup – saxophonist Wayne Shorter, trumpeter Lee Morgan, pianist Bobby Timmons and bassist Jymie Merritt – to that country in 1961 to a rapturous reception. (This would cement Blakey a loyal fanbase there that lasted the rest of his career.) Though there are other recorded documents of the tour, including a television performance, the performances captured on the double-disk First Flight to Tokyo come from the last three days of the tour.
Giving the fans what they want, the Messengers stick to the repertoire they'd built over the latter half of the fifties. Composed by Charlie Parker, "Now's the Time" appears twice, opening the album with a massive, twenty-two minute plus version that begins with a five minute solo from Blakey and hitting again two-thirds of the way through the record with another killer Blakey jam. Timmons' "Moanin'," the band's signature song, wastes no time coming in second, its easily recognizable melody practically a trademark. Blakey also puts the band through its paces on other staples of the Messengers repertoire, including former Messenger Benny Golson's appropriately titled "Blues March*, Thelonious Monk's indelible "'Round Midnight," the hot and cool "Dat Dere," Timmons' most recent contribution to the book, and bebop pioneer Dizzy Gillespie's anthem "A Night in Tunisia."
With the band hitting just the right balance of professionalism and fire and Shorter and Morgan making healthy meals from their solos, these tracks constitute practically a bible of hard bop. If you're a jazz fanatic and you have pals who want to understand what makes this particular style tick, the impeccably recorded and preserved First Flight to Tokyo is an excellent primer.