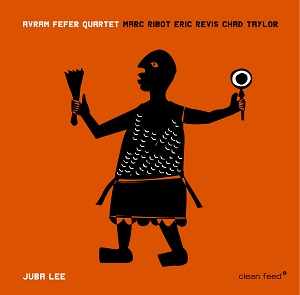 17 November 2022
The music of saxophonist Avram Fefer ranges all over the map, from bop to Arabic music to African music to avant garde and more. He was also a long-running member of the avant-funk big band Burnt Sugar Arkestra, and when that group's creator and leader Greg Tate passed away unexpectedly in late 2021, it served as the impetus for a new set of songs. Working a fertile ground somewhere between post bop and spiritual jazz on Juba Lee, Fefer comes up with strong tunes that take advantage not only of his full-boded, almost creamy tone, but the special skills of his quartet: guitarist Marc Ribot, bassist Eric Revis and drummer Chad Taylor, bandleaders and fearless adventurers all. And it shows, not only the quartet's skillful chemistry, but in the sheer joy they take in playing together.
The fizzy "Brother Ibrahim" lets the leader bounce all over a shuffling Latin rhythm groove. With his alto in full flight, Fefer leads his merry band through the Klezmer-inspired chase of the cockeyed "Gemini Time," inspiring Ribot to perhaps the jazziest solo of his career. "Bedouin Dream" zeros in on the soulful, mantra-driven spirit of Pharaoh Sanders, despite being composed before the saxophone great passed. Taylor's freeform drumming steers "Say You're Sorry" into avant-garde territory, even with Ribot's bluesy licks and the boss's low-thrumming drone. "Sky Lake" turns (ha) on Revis' circular bass figure, around which Taylor swirls, Fefer soars, and Ribot unfurls solos of piercing clarity.
Embodying Tate's own eclectic philosophy, Fefer's seemingly seasick sax worms its way through the title track, stimulating it from swing to shrek. But Fefer pays most direct tribute to his lost friend on "Sweet Fifteen (For G.T.)," a beautiful duet for bass clarinet and acoustic guitar that expresses joy in knowing Tate as much as sorrow in his loss. If only everyone had a pal as talented and dedicated as Fefer to create a tribute as compelling as Juba Lee.