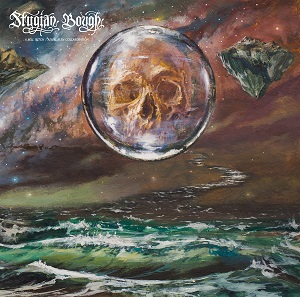 25 June 2020
Metal fans know Bell Witch as one of the genre's most interesting and experimental acts, a battleship-heavy funeral doom duo whose music has gotten more crushing, sonically and emotionally, with every release. 2017's Mirror Reaper, the Seattle band's most recent LP, became one of the most raved-about metal records in years. Aerial Ruin is the solo project from Erik Moggridge, frontman for San Francisco stoner doom outfit Old Grandad, who uses the moniker to indulge his love of dark acid folk. Moggridge has recorded and toured with Bell Witch before, including on and for Mirror Reaper.
Originally intended to be a split LP with each act covering a favorite song by the other, Stygian Bough Volume 1 – inspired in part by Sir James George Frazer's controversial nineteenth century tome The Golden Bough – inevitably evolved into a full-blown collaboration. Opening track "The Bastard Wind" lays it out. Moggridge sings clearly and matter-of-factly while fingerpicking acoustic guitars over Dylan Desmond and Jesse Shriebman's almost subliminal bass/drums thrum. The twenty-minute cut builds a melancholy atmosphere that eventually explodes into pulverizing, semi-blackened doom, with crusty vocals overtaking Moggridge's mellifluous croon. With a psychedelic through-line that both artists have in common as the connective thread between their otherwise disparate approaches, the result is a devastating track that could have easily stood on its own had the trio chosen not to continue.
Fortunately, they did, with the two-part "Heaven Torn Low," which divides Ruin and Witch's musical aesthetics more directly for a stark part one and part two. Following an acoustic guitar/organ "Prelude," the album climaxes with another twenty-minute monster (admittedly concise compared to Mirror Reaper's 88-minute title track). "The Unbodied Air" starts out heavy, with Moggridge integrating himself into Witch's pounding crunge, before the track drifts into a bridge of organ-drenched acid ambience. The song moves back to heaviness, of course, taking on an elegiac tone and bringing the album to a close on an air of mystical transcendence. Moggridge, Desmond and Shriebman balance respect for each other's talents with the urge to push themselves in new directions, and the result is a remarkable record not only stands as a major work in its own right, but whets the appetite for Volume 2.