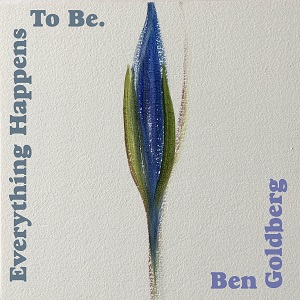 18 June 2021
At this point, Bay Area clarinetist Ben Goldberg has nearly thirty years of wide-ranging and experimental music behind him. Good preparation, then, for his latest album Everything Happens to Be., on which he collaborates with extraordinary musicians who share his taste for adventure. Intrepid saxophonist Ellery Eskin loves to travel from the center of beauty to the edges of skronk, while guitarist Mary Halvorson, bassist Michael Formanek and drummer Tomas Fujiwara – AKA Thumbscrew – have long-standing relationships with the outer limits, as well as with Goldberg himself.
That's not to say, mind you, that Everything is an aggressive shriek fest – far from it, in fact. But none of these players put any limits on themselves, and Goldberg writes with that spirit in mind. Thus the album shifts easily from the tension-inducing avant-gardisms of "What About" and "Tomas Plays the Drums" to the post bop swing of "21" and playful whimsy of "To-Ron-To" without causing whiplash. Some klezmer influences come to the fore on "Cold Weather," while "Long Last Moment" indulges in some casually exploratory sounds. Even when something seems straightforward, there's often a lingering unease – witness Halvorson's strange noises behind the otherwise beautiful balladry of "Fred Hampton." As the album's epic centerpiece, "Chorale Type" folds in nearly everything the group touches on elsewhere, and some new sounds besides – including oblique nods to the title.
Though the musicians seem to wander all over the place, the album achieves coherence due to the strength of Goldberg's writing and the obvious chemistry all of the players have. Everything Happens to Be. just happens to be a perfect example of adventurous jazz in the twenty-first century.