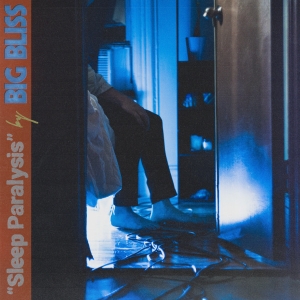 14 November 2022
It's been a tough two years for many musicians. Too often there are stories within the pages of Big Takeover of bands facing forced hiatus and Brooklyn's Big Bliss is no exception. After their outstanding first album, At Middle Distance (ExitStencilMusic, 2018), they seemingly vanished. But that certainly wasn't by choice, as you'll read below.
I reached out to founder/guitarist/vocalist Tim Race recently and asked him to catch us up on the wonderful, lyrically-intense new single, "Sleep Paralysis", as well as the next album (triumphantly to be called Vital Return), and more of what the band has been up to over the last few years. Tim came through big time and graciously shared a ton with me. I'll save some of the interview for a future review of the new album when it comes out.
For the uninitiated, I asked Tim about his and the band's music influences, and how he'd describe Big Bliss. For me a standout Big Bliss track is "High Ideal" (listen here), which harkens back to early, guitar-forward New Order music ("Temptation") and REM during their "fabled" IRS years.
"Our influences absolutely stem from Joy Division/New Order, The Cure et al (and the other side of post-punk like The Fall, Gang of Four, etc), but it also fundamentally includes rock or rock-adjacent artists like REM, Yo La Tengo, Kate Bush, Brian Eno, Fugazi, Unwound, Liars, The Replacements, TV on the Radio, CAN, Life Without Buildings, Stereolab, Spiritualized, [and] the list goes on. It's certainly rock music, but I think what we look for at its core is a certain emotional pull that doesn't necessarily have to present as post-punk."
"What I really want is music that feels emotionally true and urgent and thoughtful within the rock paradigm for Big Bliss. Early on, post-punk building blocks helped us get there I think, but we're loosening the leash just a bit on our sound stylistically."
"So, if cornered in elevator, I'd say something like 'post-punk, art-rock, tense at times, pretty at times, wide-eyed and emotionally lucid songs.' I'm not sure saying that would help, though."
I asked Tim to take us back to early 2020, when he notes that Big Bliss were kicking off the year eager to get rolling with "LP2".
"We had booked out the studio for a few-week stint to track the entirety of LP2 in April 2020, but naturally that was postponed indefinitely. Shortly after that the studio (which I also worked for) closed down for the foreseeable future to entirely rebuild. So, our plans simply went out the window."
Eight long months would pass before Big Bliss could get the full band together in the studio in early '21, and they milked it for everything they could.
"Over that period, we worked for 12 hours a day demoing the entire batch of 20+ contender songs. It was an exhausting process: self-engineering such a big set while everyone was in full PPE with the windows open to the freezing January air."
Things were progressing on the album, but Big Bliss faced two more challenges by summer: co-founder/bassist Wallace May left the band and moved to LA, and their record label had to shift gears and told Tim they couldn't release new music. Deterred, but not willing to concede, Tim persevered with his brother/co-founder/drummer Cory. They brought on bassist Rose Blanshei (formerly of PRIMA), while also recruiting Dan Peskin (formerly of Grim Streaker, who played frequently with Big Bliss).
Tim is thrilled to say "the new lineup is right on the money, and everyone are total pros." Meanwhile, the record label situation is fluid at present. With the new single, "Sleep Paralysis" "we decided to just go ahead and [self-release it] and are currently balancing the decision to go ahead with [LP2] ourselves and get it out sooner, or to wait until we have the appropriate support a label would provide and potentially delay it further. Pros and cons to each side, but at the moment the record is a free agent."
On first listen, it only takes a few bars before "Sleep Paralysis" revs its engines, fueled by crisp drumming and channeling the Athens, GA rock firm of Berry, Buck, and Mills. The single's lyrics (and the video) paint a picture of dis-ease. The song closes with the somewhat ominous lines; "Now I feel a weight I know is real. Is that you here?" Tim told me more about the remarkably vivid experience that sparked the song's lyrics.
"The song is about a sleep paralysis event I experienced the night Cory's and my dad passed in early 2019. Usually those are terrifying, but I genuinely thought dad was in the room with us, and I remember trying to speak to him. It had all the hallmarks of sleep paralysis – being physically frozen, half awake, disoriented, etc, but this time without the fear. Stress, maybe. Anxiety, maybe. But not fear. I knew dad was going to go that night, and the sense I had of him being there with us was as real as anything to me in that moment. So, the song is about the blinding flash of grief, disorientation, yearning, love, regret, and joy experienced in a loss like this, especially at the barrier of consciousness. He was our dad, so he was always larger than life to us – that's the 'weight.' Whether it's physical or not, 'real' or not, or whether this is a ghost story or not is actually unimportant – it's what's felt. What I felt then and there was real and unforgettable."
While the last few years have been anything but a breeze for Tim and Big Bliss, he's quick to point out his renewed strength, both personally and with the band. It's just part of the reason he says LP2 will aptly be called Vital Return.
"I'm proud of us for sticking with it though – in a lot of ways the perseverance helps buttress our continuing inspiration to make new records and get back on the road as soon as we can. This whole experience was intensely disheartening in so many ways, but I'm also comforted knowing we've pushed through this far – I think that bodes well for a thing like a band, which is an entity always teetering on dissolution at any moment anyway. We absolutely are not quitters, and we deeply believe in this album."
Looking ahead, Big Bliss will be playing shows and releasing more music. Watch this space!
"We plan to continue playing out in NYC as much as possible, and to hit the road the second it makes sense with the release of the record. We're working on getting some more material out ASAP (truly) outside of the standard record release process. We're eager to be out there, and we're eager to share 'Vital Return'. We're proud of this one, and I think when you get a chance to see us do it live, you'll see that too."
Links