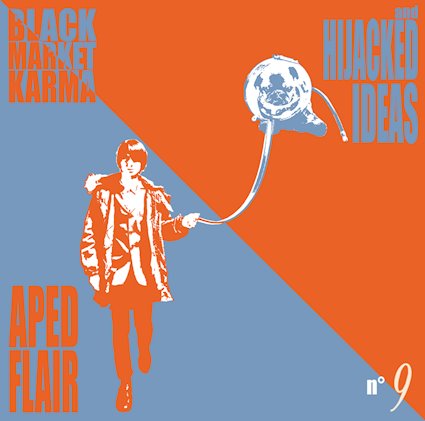 3 October 2022
"In My Child Mind" was my introduction to the fabulously named Black Market Karma, and considering it is their tenth album, I have to wonder why they haven't crossed my path before. My fault, no doubt, but in my defense, I can't be everywhere, can I? Anyway, I'm here now, and that is what matters.
What also matters is that Aped Flair And Hijacked Ideas lives up to the benchmark set by the aforementioned single. And it does. Brilliantly. In my previous scribblings about them, I alluded to the idea that the band created their own version of a 60's idyll in their music, which is present across the whole album. There is something of The Small Faces about their more gently psychedelic moments. Still, there is also something of later bands such as Spacemen 3, who similarly create their own nostalgic worlds and fill them with one version of that decade that never really happened.
Songs such as "Foresight For Hindsight" offer an extraordinary meeting of eras, full of trippy, early Floyd noodling and too relentless 80's post-punk drive so that the whole sounds like an acid-laced, blissed-out Jesus and Mary Chain rather than the in-your-face amphetamine experience that they preferred. "Kodama" is a raga rock trip; "The Sunshine Maker" is retro pop at its most unashamed, and "Ace's Trip Through The Cosmic Ether" is Seargent Pepper -esque, which can only be a good thing, right?
I guess its 60's allusions are a lot to do with confident and somewhat unique sonic choices rather than trying to write a 60s song specifically. It's that slightly woozy feeling that the music sets up, those guitar jangles, that gloopy bass, the sense that the music has to wade through thick syrup before it reaches the listener's ears. It's hard to define, and you have to listen to the album to fully understand what is so odd and original about the sound; words can only get me so far, and I think I have reached my limit.
So go and listen to the record now, and then get back to me and we can compare notes about just how truly great it is. Okay? Okay!
Album teaser
Order the album
Vinyl LP order
Spotify