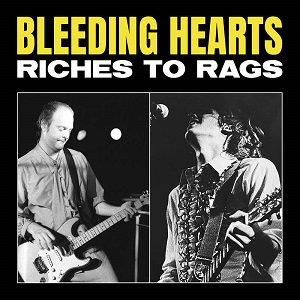 22 April 2022
When guitarist Bob Stinson exited the Replacements in the mid-eighties, he fell off the radar, or at least so it seemed. In reality, he was quite prolific in Minneapolis as a member of the bands Model Prisoners (with Sonny Vincent), Static Taxi, Shotgun Rationale (also with Vincent) and Bleeding Hearts, fronted by future Magnolias guitarist Mike Leonard. The latter represents with Riches to Rags, a set of songs originally recorded for Fiasco Records in the early nineties, but abandoned after Stinson left the Hearts right as recording completed, and now finally seeing release for Record Store Day.
Unsurprisingly, Riches to Rags sounds a lot like mid-eighties Replacements, with melodic songs, bar band energy, Leonard's whiskey-toned rasp and Stinson's distinctive hard pop flash guitar. Tunes like the one-two opening punch of the title track and "Gotta Find a Way," the power pop-gone-crunch "Tonight" and "Poker Face," the sneering youthful confusion of "Know It All" and the midtempo semi-acousticer "100 Ways" may not sound exactly like the 'Mats, but they're clearly heavily influenced by Minneapolis' favorite sons. "I'm not happy yet," Leonard sings on "Happy Yet," "I'm as happy as I'm gonna get" – a familiar sentiment to Westerbergers. That said, when the band leans into the Stones/Faces side of their personality, as on "Imagination," goes for flat-out punk on "Guilty," or dips into seventies hard rock on "What Do You Want?," the results sound more natural than the 'Mats' experiments, which often came off as pastiches rather than earnest attempts.
Ultimately, though, why not emulate the Replacements? The Hearts were hardly the only ones doing it by then, and having an actual Mat in the lineup gives the direction some real legitimacy. Plus nearly every song and performance sticks the landing, picking up the mantle Paul Westerberg left behind for a while in the nineties when he decided to become a more formal singer/songwriter. If a band is gonna try to step in such big shoes, it's helpful to do it as well as Bleeding Hearts do on Riches to Rags.