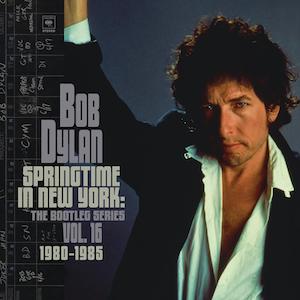 21 September 2021
An intriguing, five-disc hodgepodge, Springtime In New York: The Bootleg Series Vol. 16 (1980-1985) is the musical equivalent of the stray drawer where you toss random items that don't have a better place to go. There's some cool stuff in there, a little junk and plenty of things worth keeping, even if it's not quite clear why. Overlapping with the Trouble No More entry in the Bootleg Series, but not duplicating any cuts, this 57-track extravaganza draws on the stretch when Bob Dylan recorded the Shot of Love, Infidels and Empire Burlesque albums. Ranging from loose rehearsals not originally intended for release, to outtakes (including otherwise-overlooked Dylan compositions) and alternate takes, to a few live performances, Springtime offers a lot to chew on, especially for serious Bob scholars.
Among the unexpected Dylan originals: the sultry "Let's Keep It Between Us"; "Price of Love," a rowdy blast of blues; the stark, slinky "Fur Slippers"; the rollicking "Borrowed Time," which could be a late-'60s leftover; "Julius and Ethel," a hard-rocking look at the Rosenberg spy case; and "Straight A's in Love," a blazing raveup with echoes of Elvis Costello's Attractions.
The covers showcase Dylan's relentless eclecticism. The moving "Abraham, Martin and John," a somber, piano-based reworking of Dion's hit, pairs him with the sublime, gospel-fired voice of the great Clydie King, who shines frequently on Springtime. (Other contributors include Mark Knopfler, Ringo Starr, Mick Taylor, Sly Dunbar and Robbie Shakespeare.) A sleazy "Mystery Train" trades the steam of Elvis Presley's take on the Junior Parker classic for boozy languor. Hank Williams' "Cold, Cold Heart" is a riveting cry of pure anguish. "I Wish It Would Rain" removes the sheen from The Temptations' smash, leaving an urgent, scruffy plea. Versions of songs by Neil Diamond and Dave Mason don't work as well, but testify to an open-hearted eagerness to pursue any promising avenue.
Restlessness infuses every note of Springtime in New York. Dylan seems to be constantly searching for some new path of expression, even if he's not sure where he'll end up. And if he's cursed never to achieve true satisfaction, it's fascinating to watch him try.