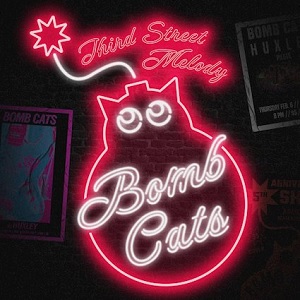 26 June 2022
The Bomb Cats are a rock quartet from Indianapolis, and on their new EP Third Street Melody, they combine the straightforwardness and the pop hooks of the Ramones with the swagger and riffs of Thin Lizzy. Judging by their sound, they are purists in a sense, because their obvious influences stop at the early 80s, and they could have easily found a large fanbase in the 70s, bridging the gaps between punk, hard rock, and power pop. Over the course of the five tracks, the band's sound is rawer than their previous work, but the catchiness and sheer infectiousness of it all is larger than life.
While the Bomb Cats never really run at a pace as fast as their punk icons, they nevertheless embody the spirit of a fun, id-driven return to rock 'n' roll. The vocals have a somewhat angular Tom Verlaine quality, but the guitar sound is a throwback to titans of classic rock like Pete Townsend and Scott Gorham. Every song here works together beautifully as a monument to guitar rock, but the clear standout is "Good Advice" with a hook so big it sounds like a lost track from Cheap Trick at Budokan.
With a large turn to socially conscious music lately, the Bomb Cats are a refreshing blast of fresh air, reminding the audience to still have some fun occasionally, and Third Street Melody is the perfect to key to unlock that need to let loose.