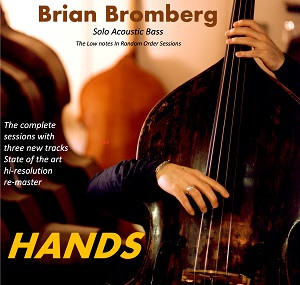 8 July 2022
Bassist Brian Bromberg boasts a career going back over four decades, starting as low-ender for saxophonist Stan Getz and going on to a long career in smooth jazz, fusion and straightahead jazz, as well as being a prolific sideman and producer with names like Freddie Hubbard, Diana Krall and Chris Botti on his resumé. During the first decade of the new millennium Bromberg recorded prolifically for the Japanese label King Records, both under his own name and with drummer Akira Jimbo as the JB Project. Since all those records can be difficult to find in the States, Bromberg selected five albums from the King catalog for digital remastered reissues.
While Bromberg never eschewed solo double bass performances, 2009's Hands was his first album devoted entirely to it. Rather than use this method to focus on his own compositions, however, the bassist instead essays a variety of covers, from standards and pop songs to classic rockers, soul tunes and TV themes. One advantage of solo bass records is that the player has to really hone in on the melody, which makes the riff-oriented choices – Led Zeppelin's "Black Dog," the Beatles' "Day Tripper" and "Eleanor Rigby," the Police's "King of Pain," Henry Mancini's "Pink Panther Theme" – instantly accessible. But that's not to say Bromberg isn't as fluid on more challenging material – his performances make it clear that Antonio Carlos Jobim's "Black Orpheus," Miles Davis' "Solar," Dave Brubeck's "In Your Own Sweet Way," the great Ned Washington and Victor Young ballad "Stella By Starlight" and Weather Report's Jaco Pastorious composed "Teen Town" are in excellent, um, hands. Bromberg includes one original, the hard-grooving "Susumu's Blues," but saves his most flamboyant playing for a high-octane take on, of all things, the theme song from The Flintstones.
Originally released in 2015, A Bass Odyssey opens with Richard Strauss's "Also Sprach Zarathustra," popularized by its inclusion in the classic film 2001: A Space Odyssey. (We see what you did there.) Bromberg uses his rubbery double bass playing to keep the composition from getting mired in the bombast that often drowns non-orchestral takes on this grandiose tune. That out of his system, he uses the rest of the record to revisit his roots with bop and fusion takes on other classical pieces. Using his bass arsenal, drums and some light electronics, Bromberg gives such well-known pieces as Tchaikovsky's "Swan Lake," Beethoven's "5th Symphony," "Ode to Joy" and "Fur Elise," and Gershwin's "Rhapsody in Blue" new paint jobs without obscuring the familiar melodies. He mostly keeps the proceedings low-key, as on a short solo bass version of Grieg's "In the Hall of the Mountain King," given a bluesy swing. But he does go for more expansive and elaborate arrangements on the epics, using various piccolo bass guitars to drive a twelve-and-a-half minute version of Rachmaninoff's "Prelude in G" and a ten-plus minute take on Ravel's "Bolero." Just to keep things in the proper spirit, he closes the record with composer Yūji Koseki's "Mothra Theme."
Bromberg and Jimbo's JB Project recorded three albums entitled Brombo!, appearing in 2004, 2005 and 2017. Joined by Venezeulan pianist Otmaro Ruiz, the trio plays mix and match with hard bop and fusion on three sets blending covers and originals. Both melody fiends, Ruiz and Bromberg tend to alternate heads and solos, while Jimbo keeps the pocket exciting behind them. I includes lively takes on Miles' "So What," John Coltrane's "Giant Steps" and Perez Prado's "Mambo No. 5," as well as grooving originals "Leisure Suit" and "Brombo." II continues the trends, casting an even wider net with takes on tunes by Herbie Hancock ("Tell Me a Bed Time Story"), Joe Jackson ("Steppin' Out"), Rodgers & Hammerstein ("The Sound of Music," given a surprisingly effective groove jazz makeover) Dvořák ("Going Home") and more Miles ("Nardis"). Giving the buzzed opening original "Action Figure" pride of place pointed to their next move.
When Jimbo and Bromberg returned to action after a thirteen-year hiatus with III, it was with keyboardists Patrice Rushen and Jeff Lorber supplementing Ruiz, five guest horn players and a more overt fusion bent. Not to mention a majority of originals – Jimbo's funky "Hybrid Life," Bromberg's even funkier "Rory Lowery, Private Eye", and the blazing Jimbo-penned "Strut Ahead" bump up against fusion classics like "Teen Town," Herbie Hancock's "Actual Proof" and Billy Cobham's "Stratus" hold their own. (A weirdly faithful take on the Eagles' "I Can't Tell You Why" seems out of place, however.) There's nothing particularly revelatory on the JB Project records, but all the players sound like they're having a grand time playing these tunes with each other. Enthusiasm + melody = entertainment.