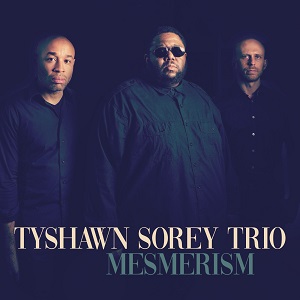 7 July 2022
Drummer and composer Tyshawn Sorey has been defying expectations for a couple of decades now, playing and writing contemporary classical music, jazz of all stripes, and any other kind of music to which he feels he can make a contribution. Given his wide array of compositions and his staggering work ethic, it's no surprise that he needs to relax once in a while. Putting aside his own work, Mesmerism finds Sorey alongside his friends Aaron Diehl on piano and Matt Brewer on bass for an engaging spelunk in the Great American Songbook.
The trio begins the record with Horace Silver's bluesy "Enchantment," setting a tone of easygoing and uninhibited performance. Sorey and company follow the same cues on Muhal Richard Abrams' soulful waltz "Two Over One," Duke Ellington's "REM Blues" and the classic, much-covered standard "Autumn Leaves," a tune impossible to screw up, so you can imagine how good it sounds here. The musicians push themselves harder on "From Time to Time," a tune from the always-challenging Paul Motian, executing it with style and verve. Recorded by Billie Holiday, among others, the Herb Ellis/Johnny Frigo/Lou Carter composition "Detour Ahead" stretches out to nearly fifteen minutes, unfolding at a logical pace and allowing everyone, especially Diehl, to really inhabit the tune and bring it to life.
Despite Sorey's maverick reputation, this isn't a set of avant-garde renditions of standards, but a love letter to his inspirations. The tranquility on display here doesn't denote a lack of effort – clearly he and his bandmates know how to work these songs. Sorey sounds informal here, playing music he clearly adores in a casual manner that suggests comfort, not disregard. It's like this is what he does to relax, and it makes Mesmerism as effortlessly enjoyable to hear as it undoubtedly was to make.