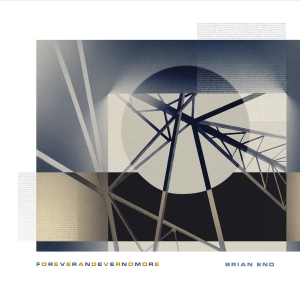 15 October 2022
As a longtime fan of Brian Eno's ambient instrumental music, it's still a bit jarring for me to hear him singing on his albums. I'm coming around to it, though. His vocals, often modulated and harmonized, remind me of David Sylvian's a bit (I recommend "Gone To Earth" and "Secrets of the Beehive") Listen here.
The new album, "FOREVERANDEVERNOMORE" (Opal Music, 2022) is bold. Unlike some of Eno's best ambient music, which by design is meant to be in the background and resting mostly in our subconscious, this collection of songs is far more attention grabbing. Eno, the seasoned pro, does a superb job of conveying his musical and lyrical ideas without crushing the listener in the path of his ego. Like all good art, there's room for the receiver to breathe, interpret, and react to it.
"There Were Bells", the first single off the album was released back in July, and the video features his live performance from the Acropolis in Athens in August '21. That day temperatures hit 113 F. As wildfires scorched the landscape nearby, Eno aptly sang,
"There were horns as loud as war that tore apart the sky
There were storms and floods of blood of human life"
Track three, "Icarus or Blériot" is arresting. Clocking in at four and half minutes, the song captures Eno's somewhat modulated and stirring vocal phrasings in balance with the music that swirls around it. "Who are we?" he asks. By the end of the song, he's tellingly shifted to "Who were we?"
While some songs have "frictional" musical elements that seem to serve as metaphors for the unfavorable state of our planet, other songs are utterly uplifting.
"We Let It In" has a shimmering, astral vibe that is frankly gorgeous. The melodies are paired with sounds of audible breaths that slowly calm the nerves. Eno's sings his short lyrical phrases while his daughter, Darla, backs him up with chants, which at first appear to be nonsensical staccato syllables (she repeats "deep" and "sun"). In the end, it is a contemporary lullaby for adults. At just over three minutes long, I'd recommend you put the song on repeat for at least an hour before going to bed. In fact, it's strong enough on its own that it would work in some kind of longer form extended mix as a single. I'd love to see multimedia visuals accompany it.
In the end, Eno has successfully managed to make music that simultaneously evokes urgent desperation alongside beauty that remains, at least for now, here on Earth.
Links
Band Name
or
Artist Name
(creates bold)
text
(creates italics)
"Album name"
(2005) (for how an LP is displayed in italics and then quotes go around it) Then put the record label and year, like (Parlaphone, 1981)
Links