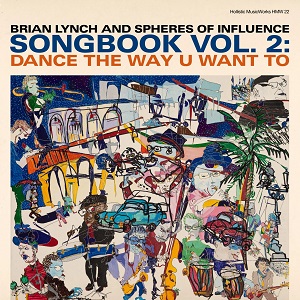 10 August 2022
Grammy-winning trumpeter and composer Brian Lynch continues his Songbook series with Vol. 2: Dance the Way U Want To, a reclamation of his back catalog through remakes and reinvention. Filtering hard bop through an Afro-Caribbean lens, Lynch kicks off this edition with a brand new tune: "E.P.'s Plan B," a hipswaying tribute to Latin jazz piano legend Eddie Palmieri that perfectly balances improvisation with danceability. As it happens, Palmieri isn't the only one of Lynch's heroes to receive a nod – well-respected trumpeter Tom Harrell gets some love in a groovy, eponymous tune, while the infamous Rudy Ray "Dolemite" Moore gets a shout out in the oddly strident "Disco Godfather," another new song.
Meanwhile Lynch leads his personnel through a survey of his back pages, from the Cuban motion-inducing title track, originally on 2011's ConClave Vol. 2, to the melodic epic "Change of Plan," which goes back all the way to his 1986 debut album Peer Pressure – plus a whopping three songs from 2005's ConClave. Sharing solo space with saxophonists Tom Kelley and Aldo Salvent, pianists Kemuel Roig and Alex Brown, and bassist Rodner Padilla (drummer Hilario Bell and percussionist Murphy Aucamp seem happy just to let the rhythm flow), Lynch gives everyone the spotlight at some point, but never lets anyone (including himself) subtract from the rhythm hittin' 'em. An exceptionally strong album, compositionally and technically.
The package also comes with a second disk of shortened edits of the songs for radio play.