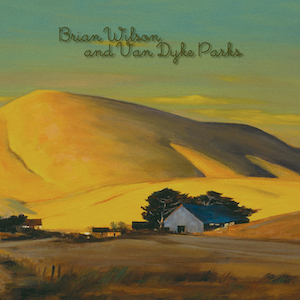 13 July 2020
In the wake of the '60s landmark Pet Sounds, Beach Boys mastermind Brian Wilson and idiosyncratic singer-songwriter Van Dyke Parks collaborated on the ill-fated SMiLE project. Though it went uncompleted at the time, pieces of the ambitious work, including the loopy hit single "Heroes and Villains," appeared on 1967's Smiley Smile.
In 1994, these mavericks reunited for an album that actually did see the light of day. Produced, arranged and mostly written by Parks, with Wilson contributing the lead vocals, Orange Crate Art is a charming, gently haunting gem, evoking a refreshing nap on a warm summer afternoon. The music features many of Parks' trademarks, including: elegant, dreamy melodies; delicate, albeit elaborate, orchestral arrangements, suggesting nostalgia for an imaginary past; and an overall woozy, sometimes melancholy, vibe. If Wilson's singing lacks the supernatural beauty of his youth, there's an unfeigned earnestness to his performances that's often genuinely moving.
In addition to highlights like the delightful "My Hobo Heart" and the tender "Hold Back Time" from the original, underpromoted release, this welcome two-disc reissue includes notable outtakes – two Gershwin tunes that surely inspired Wilson's own Gershwin tribute album, as well as the poignant "What a Wonderful World" – and entrancing instrumental versions of most of the songs.
Comfortable in its own quirks, Orange Crate Art isn't quite an overlooked masterpiece, but it's not just for Beach Boys completists. Van Dyke Parks and Brian Wilson have devised an entrancing little world that provides a badly needed (however temporary) respite from reality.