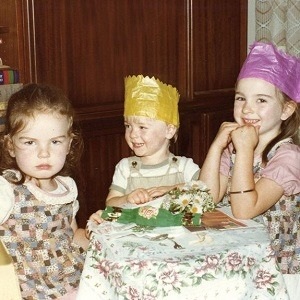 11 July 2020
The toughest review to do, is the posthumous release. Those albums released after an artist has passed, and you know this was their last breath of creativity. In the past, some have been monumental, thinking of last years Cranberries release, and the fully formed demos created by Dolores O'Riordan before her untimely death. There is an extra thread of emotion found in the playback, and that is exactly what is happening here. 
The rising star that was Eliza Jaye burnt out far too quickly. A native of Sydney, Australia, Eliza succumbed to cancer in February of this year. She left behind a startling, intense, and emotionally fuelled debut with The Seed (2013). Whilst the devastation felt by her fans due to Eliza's untimely passing, some comfort can be found in knowing her voice can be heard on a new collection of tracks. Middle Child is that sophomore album, a stark reminder of her talent to craft a song and her skill to execute it. Across eleven tracks, the late songstress sparkles, injecting a tenderness and venom equally. 
Due for release on September 8th, this album will not be overlooked, nor should it be. It is passionate from the start, and it is aching from the first, distorted quake of "Sugar Cane". Eliza's vocals are honest, naked, ridden with defiance, and they pull the listener in. With the sincere sound of her signature violin work taking the song in a different direction. "Run Like The Nile" is more upbeat, choppy, and echoes the sound of the mid-nineties Riot Grrrl genre. The sublime "Tenderness" opens with Toby Dawes eerie theremin, before Eliza delves into a deep soul delivery. Plucking each heartstring with every syllable. 
The album takes some interesting steps, with "My Sunrise", a curious song that chugs along with the vocal acrobatics that the late songstress could execute effortlessly. Whereas "Tigers" is a slow paced number, with a hint of Debbie Harry in the vocals, and a dramatic use of strings to strengthen the atmosphere. "Espionage" is more of that uplifting rock sound, loaded with melody and chiming guitar. Though the vocal range the lady hits on "I Do" is something special, where the talent shines. Similarly on the more minimalistic "The Desert", which could be sung totally a capella as that haunting voice is so hypnotic. 
The final track on Middle Child is the most involved with the loss of the singer-songwriter. And it is totally heart wrenching. Eliza's voice is totally angelic, rolling out with sorrow and the realization of the frailty that life is, right up to the closing words "..to happiness". A track, like the ten before that will stay with the listener long after the fade. This is something special, with very little down-beat moments given the surrounding with which it was created in. Available via the Moulettes' label C.R.A.F.T. Pop early September, Middle Child will become something to cherish. 
Tracklist; 
1.Sugar Cane 
2.Run Like The Nile
3.Tenderness 
4.Deja Vu 
5.My Sunshine 
6.Tigers 
7.Espinoage 
8.I Do
9.Orchid 
10.The Desert 
11.Take The Time 
For More Info: 
Website