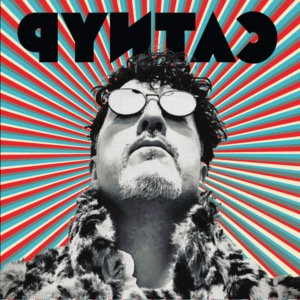 6 July 2022
Previously the bassist and songwriter for London surf-goth outfit Brand Violet (in addition to various other groups in Denver, Australia, and Sweden), the now Missoula, MT-based Henderson K. Shatner formed Catnyp upon relocating to the U.S. in 2015. Like his first three "Black Cat Trilogy" LPs — 2018's Henderson and More Tales of Mystery & Imagination from the Crypt of the Black Cat (Opus 4), and 2020's Henderson & the Black Cat — this simply-titled fourth album is wildly unpredictable and varied, so much so that no two songs sound alike. Considering that Shatner — who was inspired by Paul McCartney's three home-recorded LPs, 1970's McCartney, 1980's McCartney II, and 2020's McCartney III, cunningly reflected in the album's numerical title — played most of the instruments himself and banged out all 14 songs in a short period of time, such rut-avoiding diversity is impressive. Look no further than the first three numbers. Opener "Big Sky" is chugging power-pop with spy movie/surf-tinged guitars and gleefully animated vocals, "Houdini" is a swagger-filled '90s Britpop and hard rock stomper, and "Game the System" is '70s/80s-inspired soul-funk and hip-hop with slapped bass (from Shatner's twin sister Natalie), wah-wah guitars, scratchy beats, and cheesy, disco-era falsettos.
"Houdini"

Elsewhere, "Mainstreamlining" is twinkling and meditative folk-rock, featuring Ian Weckler's Johnny Marr-educing guitar shimmer and Shatner's Edwyn Collins-like croon; the "Fascination Street"-conjuring "No Hope" is grinding, feedback-drenched blues-rock, fueled by pounding UK-based drummer Emily Dolan Davies (who has recorded with Bryan Ferry, The Darkness, and Kim Wilde) and Shatner's "Helter Skelter"-inspired guttural wail; and "Sharp White Teeth" is galloping, X (the band)-evoking punkabilly, bolstered by Weckler's twangy, slashing lead and rhythm guitar riffs. Heck, even the LP's two instrumentals, the bright and ringing "Hill's Belles" and the murky, submerged (and cello-shaded, courtesy Jessica Catron) closer "The Nature of Birds" sound like two completely different groups.
"Game the System"

Finally, Shatner's cynical and droll lyrics are often ambiguous and open to unending interpretation. For example, on the tremolo-filled, Guided By Voices-meets-New Pornographers psych-rocker "The Architecture of Berlin," about the commodification of art communities, he sings: "Ossi and Wessi are still arguing over the fate of the Ampelmännchen/And lots of other little things that I no longer feel the need to mention," referring to the ongoing debate between East and West Berliners on their preferred traffic man symbols shown on pedestrian crossing signals, which were different in each city before Germany's reunification. It's that keen attention to detail, and Shatner's capricious, innovative approach, that will draw you in to Catnyp's eclectic musical world.
Artist Website | Bandcamp | Soundcloud | Instagram | Twitter | Facebook | YouTube
"The Architecture of Berlin"