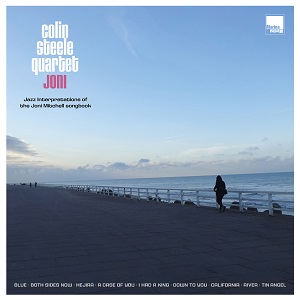 11 November 2020
The music of Joni Mitchell lends itself well to jazz. Mitchell frequently used jazz or jazz-adjacent musicians on her recordings or in her road bands – Jaco Pastorius, most famously, but also Pat Metheny, Michael Brecker, Larry Klein, Wayne Shorter and Herbie Hancock. Her late 70s albums Hejira, Don Juan's Reckless Daughter and Mingus, on which she collaborated with Charles Mingus himself, displayed a potent jazz influence. Hancock also won the 2007 Album of the Year award for River: The Joni Letters, his collection of Mitchell interpretations.
Enter Scottish trumpeter Colin Steele. Stepping onto the path blazed by Hancock thirteen years ago, Steele and his band – Dave Milligan on piano and arrangements, Calum Gourlay on bass, and Alyn Kosker on drums – gather nine songs by the Canadian songsmith and put their own spin on them for Joni: Jazz Interpretations of the Joni Mitchell Songbook. Interestingly, Steele mostly avoids Mitchell's most overtly jazzy period, including only the title tune from Hejira in the program.
Instead, Steele concentrates on her late 60s/early 70s years, drawing four songs from 1971's Blue alone. That allows the group to put as much emphasis on melody as on improvisation – if not more. On "Both Sides Now" (from 1969's Clouds) "River" (from Blue) and "A Case of You" (ditto), Steele's muted trumpet sticks close to the original tune, spiraling out from it when the mood takes him, but always coming back. That's not to say there isn't plenty of improv – on tracks like "Down to You" (from 1974's Court and Spark), "I Had a King" (the first song on Mitchell's 1968 debut Song To a Seagull), the funky "California" (from Blue) and "Tin Angel" (from Clouds), the band allows itself plenty of push and pull with the original melodies, with Milligan and Gourlay turning in some exceptionally fine performances.
The Steele Quartet doesn't go anywhere near "out" in these tracks; as noted, they prefer to stick with the tunes. But that works, given Mitchell's melodic sparkle, and it makes Joni: Jazz Interpretations of the Joni Mitchell Songbook a lovely time for all concerned.