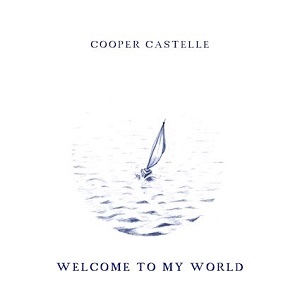 30 June 2022
Cooper Castelle is one of the large group of songwriters to emerge from the pandemic, but the Seattle musician's EP Welcome to My World is remarkably well-formed and individualized for a debut release. You would be wrong to assume there is even a shred of grunge in his sound, however, as all of his most important influences are British from the harder beat of early Kinks to the Beatles revisionism of Oasis. The hooks, therefore, are immediate and undeniably catchy, and as the EP vacillates between garage riffs and pensive ballads, a distinct Englishness in the craftsmanship becomes increasingly apparent. Make no mistake, though, this isn't Green Day affecting a British accent. This is about as far away from that as possible, thank goodness.
Instead, Welcome to My World is more like something that has been missing for the longest time, and it's similar to American youth in small towns in the 60s who start garage bands inspired by Merseybeat and add something a little rawer and grittier. Songs like "Come Undone" and "I Wanna Lose Control" take what could have easily been riffs from Dave Davies and add a more modern attitude à la The Arctic Monkeys or even The White Stripes. Meanwhile, the ballads like "Welcome to My World" sound like the sort of thing British folk musicians would have used to sing about medieval maidens, but Castelle transforms it into something far more quotidian and relatable as he openly and bravely discusses his own mental health.
It's awesome to see some great new music come from Seattle again, and Welcome to My World is a fantastic debut EP that doesn't really sound like anything ever before made in that city.