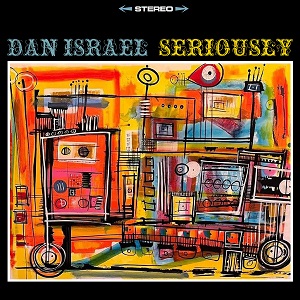 29 November 2022
One of the best things about Minneapolis troubadour Dan Israel is that his motives are pure. He's mostly self-released his music, he hasn't had anything close to a hit – he's basically been ignored by whoever hands out brass rings. But he keeps making music, putting out a slew of records, of which Seriously is the latest. Why? Because he's a musician and that's what he does – he writes songs, records 'em, and plays 'em, for his own self-expression, and for whoever's willing to take a chance.
The other great thing about Israel's M.O. is, of course, the music itself. Few songwriters are capable of coming up with such catchy melodies with such ease, and his sonic approach – somewhere between rootsy folk rock and winsome power pop – fits his plainspoken singing and (mostly) personal lyrics like the perfect sock. Whether he's rocking out, as on "Set Each Other Free," "The Hang of It" or the title track, laying back for a more intimate sound, as on "How Do I?" or "Drove So Far," or doing both at once with the two part New York medley, comprised of "I'm in New York" and "Taking the Fall," Israel makes it sound almost criminally easy – yet, given the emotions on display when he sings, it no doubt was not.
Singalong melodies, real feelings, and direct communication – all things Dan Israel handles with seeming ease, and all of them in their absolute prime on Seriously. It's a title which also applies to the consideration music lovers should give this album.