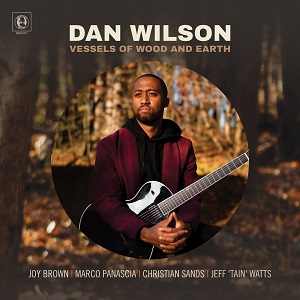 9 June 2021
While a lot of jazz-born guitarists fall into the fusion or smooth jazz categories, there are plenty who still take inspiration from straightahead genre giants like Wes Montgomery and Joe Pass. Case in point: Dan Wilson. The Ohio native sounds like he heard the Montgomery LP Smokin' At the Half-Note and never looked back. Vessels of Wood and Earth, his third album as a leader after working with luminaries like Joey DeFrancesco and Christian McBride (who produced), showcases a gifted player who knows how to balance technique with an understanding of the song.
Wilson's take on Stevie Wonder's "Bird of Beauty" zeroes in on the master's melodic magnificence without sticking to it, using it as a springboard for improvisational excitement. Showing an affinity for both Marvin Gaye and social consciousness, Wilson takes on Gaye's "Save the Children" and "Inner City Blues," bringing out the jazz inflections in both and stepping out of the way when it's time for singer Joy Brown to convey the messages. Brown also takes center stage in a stirring voice-and-guitar rendition of the standard "Cry Me a River." He strips down even further on a cover of the Pat Metheny Group's "James," eschewing Metheny's production layers for some shimmering solo guitar.
Wilson shines especially brightly on his own tunes – digging into the melodies of "Juneteenth," "Who Shot John," "The Rhythm Section" and the title track comes as naturally as breathing, and makes the solos natural extensions of the music in his head. Of course, he has help, as bassist Marco Panascia and drummer Jeff "Tain" Watts lay down expertly swinging and slinky grooves and pianist Christian Sands provides Wilson with a foil as lead voice. But the spotlight remains where it rightly belongs. Fleet of finger but refined of taste, Wilson makes a good case for himself as the next jazz guitar star.