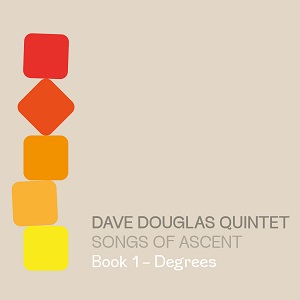 7 October 2022
There are a few reasons to be excited about Songs of Ascent, the latest project from jazz trumpeter and composer Dave Douglas. The most obvious is that it features the reunion of one of his most beloved quintets, with saxophonist Jon Irabagon, pianist Matt Mitchell, bassist Linda May Han Oh and drummer Rudy Royston – all leaders and standard-setters in their own rights. Another is that this is his second (and third) album of 2022 – ah, the joys of controlling your own label. A third is that this project jumps off from that prior 2022 album, exploring the world of original psalms that made Secular Psalms so impressive. The fourth reason, of course, is even more obvious than the lineup: the music is damn good.
Divided into two disks, Songs of Ascent doesn't go easy on its listeners, beginning with Book 1 – Degrees. "Never Let Me Go," the opening cut, finds Douglas blending an assertion and a plea, circling Irabagon's horn and letting the rhythm section push past the edges of the tune. The locked horns of "Lift Me Up" take the title nearly literally, ascending in harmony before gliding back to earth in time to split solos and watch Mitchell bring controlled chaos to the keyboard. "A Fowler's Snare" dives straight into the pool marked "Ornette," with every instrument seemingly for itself, yet still toeing an invisible line. By contrast, "Peace Within Your Walls" and "Enthroned" swim through less choppy waters, with lusher textures and easier melodic lines, even as they steer well clear of being conventional. Appropriately enough, "Mouths Full of Joy" ends Book 1 with spiraling unison horn lines, bluesy bass meanderings, and enough self-expression in the solos to open a painter's studio.
Available only to subscribers to Douglas' Greenleaf label, Book 2: Steps continues the trend, but with the polarity reversed: calmer winds blow here. Lead cut "Quiver" embodies the verb tense of the word, shuddering in its silky introspection. "Grass On the Roof" and "A Weaned Child" calm even further down, leaving aside the post- in the bop equation and essaying traditionally melodic – and absolutely lovely – hard bop balladry, with Douglas breaking out his mute. "Make a Horn Grow" even looks back to a bebop future. But Douglas doesn't abandon the avant-jazz that characterizes most of Book 1, loosening the reins on both tune and staff for "Let Your Ears Be Attentive." Douglas continues the commands even as he ends the record, with harmonious horns exhorting us to "Lift Up Your Hands," closing Book 2 with an invocation to do better.
As ambitious as anything Douglas has done – and that's plenty – Songs of Ascent creates a sound world both familiar and off-kilter, its impetus understood only by its creator, yet communicated for everyone to absorb.