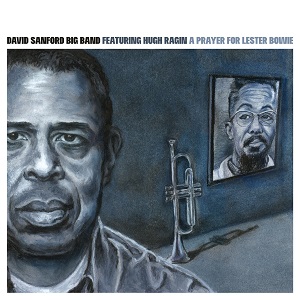 23 September 2021
Composer David Sanford has had work performed by orchestras, chamber music ensembles and classical soloists around the world. But the Pittsburgh native also leads a jazz big band, the better to incorporate all of his influences, from classical music to avant-garde jazz to funk to hardcore punk. Joined by trumpeter Hugh Ragin, who contributed the title track and studied with its namesake's band the Art Ensemble of Chicago, Sanford presents a wide program on A Prayer For Lester Bowie, encompassing all facets of his musical personality.
"Full Immersion," which kicks off the LP, leans heavily on funk, with an antic rhythm and ensemble playing tighter than a vacuum seal. Immediate follow-up "Subtraf," on the other hand, slows the tempo and loosens the arrangement, allowing the horns to clash as much as harmonize, and guitarist Dave Fabris and trombonist Mike Christiansen to contribute gnarly solos. Fabris also contributes heavily to "Soldier and the CEO," a rock-oriented piece that wouldn't sound out of place on a Snarky Puppy album. Inspired by a rollercoaster, "V-Reel" includes New Orleans-styled brass band stomp in its energy-marinated funk roll. "Woman in Shadows" shows Sanford's way with lush balladry, while his take on Dizzy Gillespie's "Dizzy Atmosphere" displays his ease with traditional big band swing.
Possibly, and ironically, the most representative track, Ragin's piece celebrating Lester Bowie folds in everything from avant-garde near-anarchy to speed swing to noir soundtrack music. It's a fitting tribute not only to Bowie, but also Sanford himself, whose musical open-mindedness includes the wisdom to turn his art over to a colleague if it encapsulates the vibe. With his big band as his garden, Sanford grows a compelling musical cornucopia.