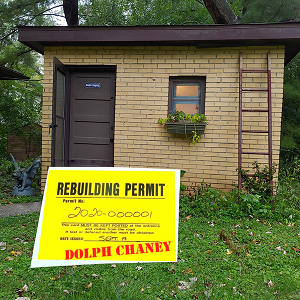 28 March 2020
In a nutshell, Rebuilding Permit is the sound of pure emotion. The artist Dolph Chaney channels a stark realism directly from his soul and into the senses of those listening. It is not an affair of doom and gloom, instead this work is a celebration of life itself. Like us all, there is a sense that Dolph has gone through some trials in his life, and Rebuilding Permit is metaphorical of the first breath a drowning man breathes as he reaches the surface. The saviour and survival honed across nine tracks, as the rebuilding becomes the re-evaluation and redemption all in one. 
With that depth in mind this is the sound of a triumphant troubadour connecting without judgement, a hand reaching out to comfort. Dolph has that rare gift of being able to resonate with those who cannot find the words to explain how they feel. As the first track begins, "It's Ok" you realize this is the start of the healing process. Though a track which is so upbeat and positive that immediately you become hooked, and that is a good thing. Onward into "If I Write It Down", the powerful imagery and hopeful messages build passionately. – "If I write it down then I have to feel" 
A song which lifts the lid on how and why you should face your fears. It is that word 'fear' or rather fearlessness that pulses through Rebuilding Permit like an electrical current. 

The songwriting is amazing, crafting words to rock sounds. "The Handling" exudes this, with a meeting of old-school power pop and
Steve Miller
, it rocks with the best of them. And a whipping solo that cuts through your skin. With flourishes of piano the oddly named "The Biscuit (Who Grabbed My Face)" erupts joyously, as Dolph Chaney injects warmth and sings as if his life depends on it. This theme switches into the nightmarish "Diet Of Worms". An Americana-grunge feel that is driven by guitar cranks over acoustics with haunting drones erupting throughout. 
There is no arguing with his political swipe "The President Of The United States Is The Breitbart Bimbo". A protest anthemic statement fuelled by attacking guitar riffs that comes out of nowhere but fits in nicely with its surroundings. This menace is pulled back with the soul rendering "Broken". An acoustic track that moves from minimalistic to emotion stirring as the instruments merge to the feelings. Then into a standout track, "A Good Road Is Hard To Find". A slice of brilliance based on the hardest struggles reap the greatest rewards. It moves with emotion and an acoustic guitar pattern that lodges into your brain. 
The closing "(Who Am I) To Ask You To Dance?", brings this journey to an end. A melodic piece of self belief, that ends as beautiful as it starts. Ultimately pain should not create such beauty, or so you would think. The thing is though, this is not a paint-by-numbers affair, it is not a pretentious second hand view. It is real life, and Dolph Chaney is a real person, but he is gifted and his talent shines. 
Tracklist;
1.It's OK
2.If I Write It Down
3.The Handling
4.The Biscuit (Who Grabbed My Face)
5.Diet Of Worms
6.The President Of The United States Is The Breitbart Bimbo
7.Broken
8.A Good Road Is Hard To Find
9.(Who Am I) To Ask You To Dance?
For More Info;
Website
Facebook