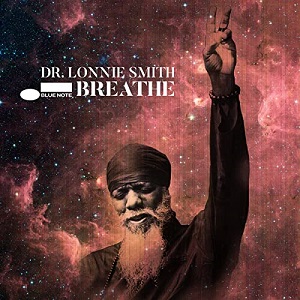 25 March 2021
One of the genuine legends of the soul jazz B-3 organ, Dr. Lonnie Smith (not to be confused with fellow jazz keysman Lonnie Liston Smith) has enjoyed a bit of a renaissance since re-signing to his old home Blue Note a few years ago. (Not that he ever went away, mind you.) Breathe is a sequel to 2018's All in My Mind, as it consists mainly of live performances from the same 2017 date from which come its predecessor's.
Along with his regular bandmates Jonathan Kreisberg on guitar and Johnathan Blake on drums, Smith also brings in a horn section for extra grease. The 78-year-old and his crew already put forth smoking grooves on "Track 9" and "Too Damn Hot," but the horns inject a funky kick. Even without the wind instruments, however, the group cranks the heat – a take on Thelonious Monk's "Epistrophy" playfully navigates Monk's twists and turns, while an extended run through Smith's blues ballad "World Weeps" burns like a soul on fire. Smith and Kreisberg rip it up when it's time to solo, while Blake keeps the rhythm at an easy boil as foundation.
The record also includes a pair of studio bonuses: covers: of Timmy Thomas' "Why Can't We Live Together" and Donovan's "Sunshine Superman," both featuring Iggy Pop on vocals (fear not, he fits right in) and possessing beaucoups of soul. Full of improvisational fire and hip-pleasing grooves, Breathe is irresistible.