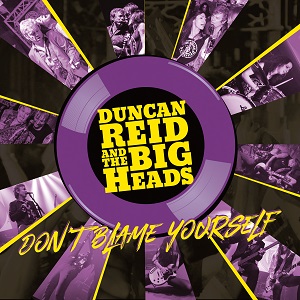 25 May 2020
One of the first, original punk bands was The Boys. The first band of the era with a full record deal, and a fanbase including the late Joey Ramone. Of those original members, and one that still makes classic music is Duncan 'Kid' Reid. In the last number of years, Duncan, along with his band The Big Heads are keeping the torch burning, blending power pop and punk. And now they are back with a long awaited follow up to 2017's Bombs Away, 
Don't Blame Yourself is the authentic spirit of '76 punk dragged into this 21st century atmosphere. It feels as if the sound, themes and sonic injection of that original era has been frozen in time. The past four-and-a-half decades have been pushed aside with this album. Clocking in at the 45 minute mark, it is a rampant rock record, skillfully produced and stylishly executed. A full-on joyous collision of rich harmonies, melodic patterns and detonating guitar riffs. 
From the first turn of the ignition  Don't Blame Yourself is firing on all cylinders with "Your Future Ex Wife". A statement which opens this deep dive into everyday issues of broken love, and despair. The following "Motherfucker" erupts with a thunder of drums before the tongue-in-cheek lyrics spew forth in a playground of addictive melody. "Welcome to my World" has a classic touch of eighties power pop, with a sing-along chorus. "Tea & Sympathy" is more melancholic and reflective, a slight slowing in pace. "To Live or Live Not" throws the listener back into the energetic pulse of the album. The vocals are sublime here, with a mpre gentle sneer than an aggressive assault. 

An all too familiar figure emerges midpoint in "The Grim Reaper". Where strings drop to let in a soft piano as it develops into a mid-seventies ballad, which thumps along respectfully. "Oh What A Lovely Day" is a musing easily mistaken for a
John Lennon
track. The positivity and optimistic messages oozes blissfully. Then tempo picks up with "Ballad of a Big Head", which lifts with a screeching guitar line, and the title-track is guitar riff assaulting foot tapping slow burner.
The infantile intro to "Came The Day" disappears to a lush phase vocal. Again "Little Miss Understood" follows to get things moving again. Though the steely, chiming guitar of "Dave" is a standout number, with harmonies that are infectious. The closer "Jealousy" brings it all to an end just like it started. Overall the album simply breathes with life. It is one of those rarities that gives the impression it was as good to create as to to listen to. Don't Blame Yourself is simply the personification of a good time record. 
Tracklist; 
1.Your Future Ex Wife    
2.Motherfucker    
3.Welcome to my World    
4.Tea & Sympathy    
5.To Live or Live Not    
6.The Grim Reaper    
7.For All We Know    
8.Oh What a Lovely Day    
9.Ballad of a Big Head    
10.Don't Blame Yourself    
11.Came the Day 
12.Little Miss Understood 
13.Dave    
14.Jealousy 
For more info; 
Website
Bandcamp