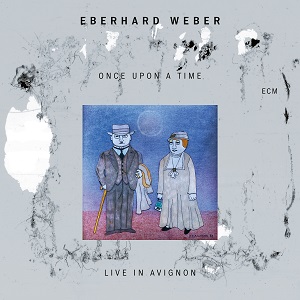 11 November 2021
A mainstay of ECM Records as both solo artist and sideman, German bassist Eberhard Weber can look back on decades of well-crafted music, and while a stroke may have shut down his performing days, he's still able to release records. As with his last pair of albums Résumé and Encore, Once Upon a Time – Live in Avignon presents vintage live recordings previously unheard outside of the shows at which they were recorded. But while those prior records found Weber lifting bass solos from concerts with Jan Garbarek and overdubbing keyboards to flesh them out into new songs, Once Upon a Time captures a solo bass performance, recorded at fellow bassist Barre Phillips' Festival International de Contrebass in France in 1994.
Armed with his custom five-string electric upright bass and looping technology, Weber weaves tracks based on tunes from studio LPs Orchestra and Pendulum into colorful new tapestries. "Silent For a While," for example, starts with near-ambient bass harmonics over which their creator solos with contemplation one moment and abandonment the next, while "Delirium" adds groove after groove to support his rubbery but melodic breaks. Putting loops aside, "Ready Out There" spits out a series of finger-bashing riffs played at speed, driving a groove and creating counter-melodies with an almost casual ease, while "Air"applies a similar approach to a concert-closing ballad. Possibly the album's highlight, new song "Trio For Bassoon and Bass" unfolds slowly over twelve minutes, adding layer on layer, never cluttering up the sound, but giving Weber a firm foundation on which to stake his fleet fingerings, stirring arco work and distinctive tone.
Though not usually known for standards, Weber includes one here, laying down an almost psychedelic atmosphere in which he performs variations on the melody of "My Favorite Things," the Sound of Music standard long associated with John Coltrane. It's a reminder that the bassist still swings when he's of a mind. Weber may no longer be in top performance shape these days, but if there are more recordings like this in the vaults, the world won't be short of remarkable Weber performances anytime soon.