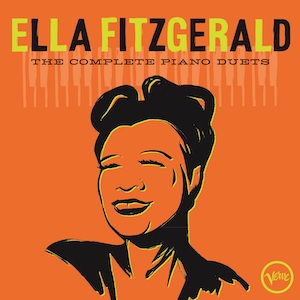 16 March 2020
The great jazz vocalist Ella Fitzgerald made many kinds of wonderful records during her brilliant career, including charming duets with Louis Armstrong, classy collaborations with Duke Ellington and spirited live albums that showcased her exuberant scat singing. But the purest Ella may have been her performances with a variety of gifted pianists.
Spanning 1950 to 1975, The Complete Piano Duets presents 43 examples of shining genius on two discs, pairing Fitzgerald with keyboard aces like Oscar Peterson, Tommy Flanagan and Ellis Larkins. The repertoire of standards includes songs by the Gershwins ("Someone to Watch Over Me"), Cole Porter ("My Heart Belongs to Daddy") and Billy Strayhorn ("Lush Life"), as well as such timeless tunes as "I'm Getting Sentimental Over You," "September Song" and "Makin' Whoopee!" Regardless of accompanist, Fitzgerald caresses the melodies with an easy grace that seems divinely inspired.
With all the real-world stress today, taking time to experience beauty isn't just a nice idea – it's conducive to sound mental health. Soothing and sweet, The Complete Piano Duets won't solve any crises, but it will likely make them a little easier to face.