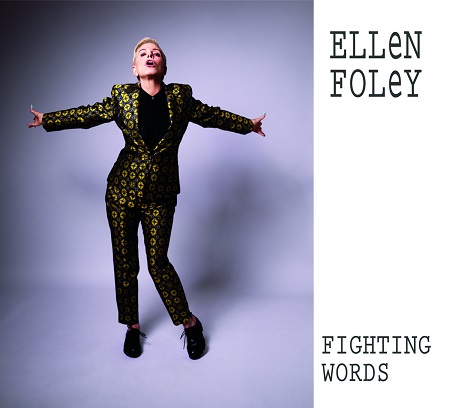 27 June 2021
An artist such as Ellen Foley is always in style, always exciting and has always released music that is of a certain quality. The lady is the broken angel on  Bat Out Of Hell, and the spark in Sandinista, ultimately she rarely puts a foot wrong. Continuing on that streak comes her latest long-player Fighting Words. Released on August 6th, this is the follow-up proper to 2013's acclaimed About Time. However, this album reeks of an inspired confidence which may have been absent from the previous release. Along with that, Ellen does what she does best and takes risks, skipping through styles and genres that all gel together perfectly. Her first solo albums hold a unique quality that placed the songstress above her accomplishments with Meat Loaf, separating Ellen from one project, and making her stand perfectly on her own. And that is why she is so important in the musical spectrum. 
On Fighting Words, the pure architecture of the album proves that volcanic fire in her belly to create is still very active. The album is the sound of blue-collar soul fused with the angst of rock and roll, and the honest purity of expression. And things get rocking from the outset. "Are You Good Enough" is a track which may have not seemed out of place on Another Breath or Nightout. The singular fact the album jolts into life this way shows an intent, an answer to what Ellen wants to achieve here. Again on further tracks such as "Leave Him Janie" the same energy is prevalent, as if soaking up the atmosphere of 1970's Los Angeles and capturing it within the density of a song. Of course her longtime collaborator/producer Paul Foglino drives the musical foil forward throughout, and the chemistry of both is a wondrous thing. The first single from the set, the cracking "I'm Just Happy to Be Here", a duet with Bat Out Of Hell partner Karla DeVito. A fired up, autobiographical statement that sets the mood of the album. It also displays the hunger that has not diminished any of her original sweat-drenched performance. 

Further on, and a cover of
Wilson Pickett's
"I Found A Love" is a modernist rhythm and blues. Similarly shown in the slow burning, but wholly intense "I'll Be True", although the latter is more heart strung and passionate. Though the aforementioned 'switch in genres' rattles into a deep cut Americana sound of "I Call My Pain By Your Name", perhaps one of the cleverest titles you will hear. The track reveals the subtle menace that Ellen can exude from her vocals effortlessly, harking back four decades and
Spirit Of St. Louis
territory. However at the heart of this record is rock and roll, and it is simply not a straightforward album, instead it takes twists and turns and the dynamic shifts which is pleasantly surprising. Other bangers such as "This Won't Last Forever" highlight the story Ellen tells, as if looking back across her life with the acceptance of humility and the fragility of humanity. In a sense
Fighting Words
is a nostalgic album, personal to the artist but she shows how she is still evolving forward, and embarking on new adventures. 
With the recent, and tragic passing of Jim Steinman, the rendition of "Heaven Can Wait" which closes the album is both poignant and passionate. A fitting tribute to a man who soundtracked our youth in one form or another. Ultimately however, like a good red wine Ellen Foley has aged gracefully. With all she has accomplished in her life, the lady has nothing left to prove to anyone. It is obvious here that she is enjoying what she is doing, and that comes through in every syllable sung. That is the rich quality of Fighting Words, the reason why it is so accessible and essential, even in this manufactured world of the 21st century. It is the perfect, sit back and blast album, and hopefully we don't have to wait as long for a follow-up.
Tracklist:
1.Are You Good Enough
2.Be Nice
3.I'm Just Happy to Be Here 04:09
4.I Call My Pain By Your Name
5.I Found a Love
6.I'll Be True
7.Come On Love
8.Fill Your Cup
9.This Won't Last Forever
10.Leave Him Janie
11.Heaven Can Wait
For more info and to pre-order: 
Bandcamp
Website
Facebook