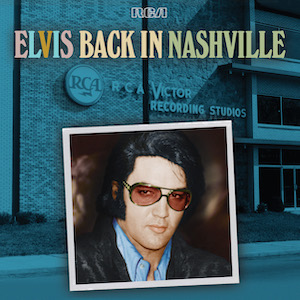 15 November 2021
When Elvis Presley returned to Nashville in 1971 for what would be his final studio work in the city, the glow from his late-'60s comeback, which had produced such hits as "In the Ghetto" and "Suspicious Minds," had begun to fade. But he was still in fine voice. Collecting 82 tracks on four discs, Elvis: Back in Nashville strips the often intrusive orchestral and vocal overdubs from those wide-ranging sessions to reveal how The King and his ace players actually sounded at the time.
At the behest of the record company, Elvis was there to record a gospel album and a Christmas album, as well as secular material. He dispatched the seasonal songs with professional aplomb, ranging from old-fashioned favorites like "Winter Wonderland" and "The First Noel" to the melodramatic "If I Get Home on Christmas Day" and the sultry "Merry Christmas Baby." Presley seemed more engaged on the country and folk numbers, among them Gordon Lightfoot's "Early Mornin' Rain," Bob Dylan's "Don't Think Twice, It's All Right" and Kris Kristofferson's "Help Me Make It Through the Night." A terrific single LP could have been compiled from these non-holiday, non-religious songs, but they were parceled out on different albums, squandering a chance to make a powerful statement about his ongoing creative vitality.
The gospel songs are simply stellar. Often backed by The Imperials vocal quartet, Elvis pours his heart into these joyful performances, including foot-stomping delights like "I, John" and "Bosom of Abraham" and the gentle "Reach Out to Jesus." Elvis: Back in Nashville offers a fresh opportunity to marvel anew at Presley's gifts, and to lament the dimming of his brilliance in the years to follow.