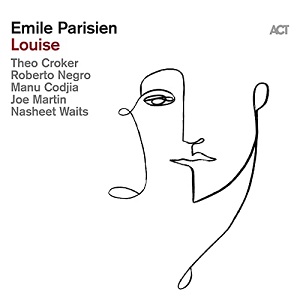 25 January 2022
Though its roots will always be in the country of its birth, jazz is truly an international language. The wave of players and composers from outside of the US who play the music with a healthy mix of reverence and individual spirit seems happily never-ending, with French soprano saxophonist Emile Parisien being the latest proponent. Joined by an exceptionally strong band, including trumpeter Theo Croker, guitarist Manu Codjia, pianist Roberto Negro, bassist Joe Martin and drummer Nasheet Watts, Parisien presents a program of sturdy compositions given vibrant life on his latest album Louise.
Parisien's zippy "Jojo" (featuring a marvelous Croker solo), Codjia's thumping "Jungle Jig," and a swinging cover of Joe Zawinul's "Madagascar" nod to bop history while still sounding twenty-first century. Luminous and unafraid to draw on textures outside of jazz tradition, Negro's "Il giorno delia civetta" and Parisien's title track sound like the best chamber jazz on ECM Records. The band gives Croker's "Prayer 4 Peace" a good stretch over the loom, weaving its melody into a benediction without using garish threads.
The album reaches its apex of composition and performance with its leader's three part epic "Memento." The track filters its sextet through a series of big band dynamics, wrangling the rhythm and melody into different shapes according to the tune's need, but doing so with a flow that keeps any stitches from being evident. It's this remarkable facility by Parisien as a bandleader and his clear focus as an artist that makes Louise the kind of statement that means more than just "the new album." Parisien may not be winning Downbeat awards or Grammys yet, but Louise indicates it won't be long.