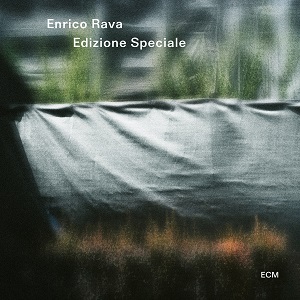 29 October 2021
Italy's jazz master, trumpeter and flugelhornist Enrico Rava has recorded in a variety of contexts and with an international cast of musicians since his first professional work in the mid-sixties. An ECM artist since 1975's remarkable The Pilgrim and the Stars, Rava was one of many artists called in the summer of 2019 to celebrate the company's fiftieth anniversary, which also happened to coincide with his own eightieth year on Earth. Recorded at the Jazz Middelheim festival in Antwerp, Edizione Speciale encapsulates his career to date.
Augmenting his regular quartet of guitarist Francesco Diodati, bassist Gabriele Evangelista and drummer Enrico Morello with pianist Giovanni Guidi and saxophonist Franceso Bearzatti, Rava opens the show with "Infant," an expansive tune that shows off both the band and his own compositional skills. Rava and Bearzatti kick off the melody in unison, recalling any number of bebop and hard bop horn duos. Once Diodati comes in with some discordant skronk and Guidi rips across his keyboard like a cat fueled by espresso, though, all bets are off, and the piece becomes a history of Rava's musical interests in thirteen minutes. Maintaining its improvisational fire, the group becomes more overtly melodic by melding Michel Legrand's "Once Upon a Summertime" with Rava's own "Theme For Jessica Tatum," originally from Noir. Guidi provides a classically-inclined framework for the leader's mellifluous flugelhorn work, but everyone gets the spotlight.
Taken from the album of the same name (also the original home of "Infant"), "Wild Dance" begins in a similar manner, but takes a turn for the strange as Diodati overlays feedback and effects starting in the middle of the tune, transforming it from lush and pretty to atmospheric and menacing. Morello and Evangelista revisit Miles Davis' "All Blues" rhythm and make it jaunty for "The Fearless Five," a song originally recorded in 1978 that proves a perfect platform for punchy riffs and hot solos, not to mention enthusiastic audience support. The bandleader then lays down the brief, but exceptionally tuneful, "Le Solite Cose" before taking the band into "Diva," a soaring waltz that he's recorded more than once in his long career.
The program concludes with Cuban composer Osvaldo Farres' "Quizás, Quizás, Quizás," a frisky tango that puts Bearzatti in the spotlight and reaffirms Rava's love of, and affinity for, Latin jazz – much to the delight of the crowd. No surprise there – the band's exuberance, not only in its playing but in Rava's frequent vocal exhortations to his guys, similar to Bob Wills' interjections with the Texas Playboys, is infectious, setting up an energy flow between performers and listeners that simply can't be denied. Featuring an expertly selected setlist and a bravura performance with a well-oiled band, Edizione Speciale shows a jazz veteran at his absolute best.