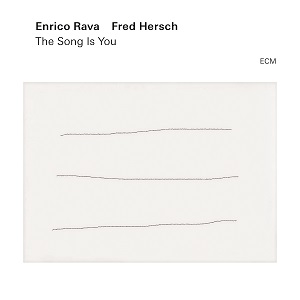 9 September 2022
Italian trumpeter/flugelhornist Enrico Rava has a long and varied career – his most recent albums include free jazz, fusion, hard bop and anything else this restless creative mind felt like exploring. No matter what territory he traverses, however, Rava always retains his trademark lyricism. It's a trait he shares with pianist Fred Hersch, a player who also possesses a broad palette that never obscures his signature style. Hersch has made duo recordings a significant part of his career, with his latest endeavor The Song is You featuring Rava as his partner in a series of standards and originals.
Given the warmth of each instrument, a flugelhorn/piano matchup seems tailor-made for ballads, and the pair certainly shines in that regard. Takes on Antonio Carlos Jobim's "Retrato em Branco a Preto" and the Jerome Kern*/*Oscar Hammerstein II standard "The Song is You" are simply flat-out beautiful, with each musician fitting into each other's aura's perfectly. Hersch leans into lush melodicism on Thelonious Monk's "Misterioso," turning the ever-quirky jazz legend's music into a late night contemplation of the infinite before Rava brings it back to the blues.
But there's more to The Song is You than ballads. Sounding almost like a Pat Metheny Group anthem stripped down to its undies, Hersch's heartland-melodic "Child's Song" moves at a steady clip, pushing Rava into discordance as often as melodicism. Rava's "The Trial" dramatically pushes the energy level up, with Hersch's almost classical keyboard flourishes underpinning Rava's bluesy strut. The twosome takes Monk's waking dream of a ballad "'Round Midnight" and gives it some verve, weaving from brooding to brash over the course of its length. The duo gets downright jaunty on the old favorite "I'm Getting Sentimental Over You," driven by some especially staccato piano.
The record also includes the accurately titled "Improvisation," a wide-ranging, often rollicking track of spontaneous composition that revisits Rava's free jazz roots and inspires some playful accompaniment from Hersch. The tune is a testament to Rava and Hersch's deep chemistry, and one hopes that will be a quality further explored on more than just the marvelous The Song is You.