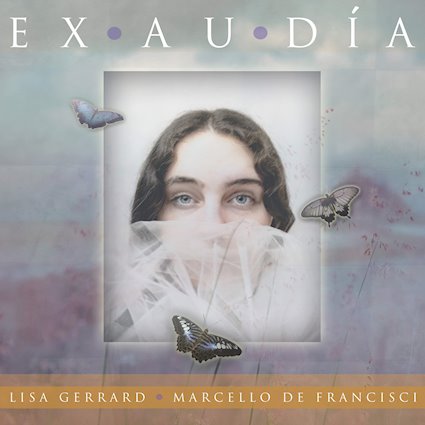 9 September 2022
See the name Lisa Gerrard, and you automatically form expectations about the music to follow. As you contemplate the album to follow, words such as cinematic, otherworldly, epic, majestic, and sensual all tumble into your thoughts. See the name Marcello De Francisci and all manner of gorgeous film scores spring to mind. To find the two of them collaborating on an album feels like a moment when stars align.
And, indeed, Exaudia, their second album together, is a beautiful and rarified affair, as you might expect. To call these individual tracks merely songs is to find yourself facing the limitations of language. They are soundscapes that create sonic worlds, inspire and conjure myriad emotions, take you away from this world, or into its past, or even alternate versions of the world you know. Such is the power of music at its most potent. And this is rich and potent music indeed.
Of course, the first thing that confronts you is Lisa Gerrard's singular, seductive and sensational voice, at turns drifting and vulnerable, then confident and dramatic, sometimes fragile, sometimes forceful, always clear, crystalline, and charismatic.
But, the voice needs a musical platform to dance and drift over, and De Francisi's underlying creations are as gorgeous and gratifying as the voice that inhabits them. Again, sometimes filled with sky-searing drama, sometimes built on classical grace. At other times you hear the cultures and traditions of this world being laid out, and just as often, the music creates its own, singular musical realm in which to exist.
Exaudia is a gorgeous album. How could it not be, given the talents of the two collaborators? What more is there to be said?
Exaudia album order
When The Light of Morning Comes
Lisa Gerrard on this collaboration