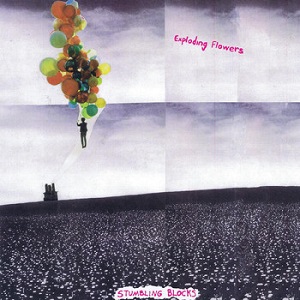 6 August 2020
The LA quartet Exploding Flowers return with an energetic piece of work. On August 11th comes Stumbling Blocks, a set of twelve tracks that sparkle within a gorgeous atmosphere of melody. This all creates an interesting listen, what's more an insight into the talent on offer. The fact that they can vault through genres, and at times twist their sound into other areas is a quite rewarding factor. 
From the first roll of guitar strings on "A Daunting Thought", immediately the listener is pulled into a world of harmony. The images of Californian warmth circle the sounds, with a thread of sixties psychedelic folk rock meeting the power pop of the late seventies. The title track continues this jaunt through jangling chords. With an extra urgency to both the sound, and indeed the lyrics. It is carefree, uplifting sounds with the members seem to conjure up effortlessly. Case in point, "I Need Your Devotion", which is interjected with an extra slice of menace through churning guitar crunches. This gives the overall feel more of an edge, but the sprinkles of notes that screech blissfully are wonderfully placed. 

This band is wholly Californian, with a wistful reminder of the
Doors
on "Billions Just Like You Here Today*. At least in the pumping organ, the rest of the track pulls from a more punk influence. Same as the manic, but brilliant "My Poor Heart", which although shows signs of influence, does provide enough unique nuances by the band. From here they flip into the original sounds of the opener on "Timing is Everything". Worthy of taking note, there are crackers a plenty spread across
Stumbling Blocks
. For example "Amongst Burnt Out Stars" vibes of
Big Star
, "Until You Fall Apart" is a delicious piece of post-punk. The vocals of
Sharif Dumani
would dominate any other album. His delivery is magnificent, but the band work so well alongside him, they are never immersed under his tones. 
The closing "Are We So Disposable?", features the added talent of Suki Ewers (Mazzy Starr). Suki gives a touch of shoegaze to ride the album out. A track which is excellently placed, to make its fading more memorable. This is a great album, and has enough of the band's own identity so prevalent, that it does not fall into the category of monotonous, or even repetitive. It is something to disappear inside from this modern world of surrealism.  
Tracklist: 
1.A Daunting Thought   
2.Stumbling Blocks    
3.Far, But Never Gone    
4.I Need Your Devotion    
5.Billions Just Like You Here Today    
6.My Poor Heart 
7.Timing is Everything 
8.Imagine All Possibilities    
9.Amongst Burnt Out Stars    
10.Until You Fall Apart 
11.Mirror To Mirror, Face To Face    
12.Are We So Disposable? (ft. Suki Ewers) 
For More Info;
Bandcamp
Facebook