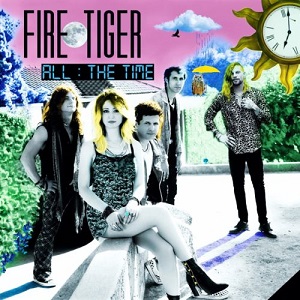 16 July 2020
Old school sounds mixed with a modern attitude. That statement sums up perfectly the ethos of Los Angeles rockers Fire Tiger. A band who are energetic, anchored to the past but stepping forward through a digital age. They are something to get excited about, and their latest album All The Time shows both maturity, and a much stronger forging of an originality than displayed on previous releases. This is not simply an exercise in how to make an album and retain your influences, instead it is an album of a band who add their unique style into a framework that is already rock and roll. The noise of L.A style, Glam Rock, mixed with an ethereal, eighties feel, and with that sprinkle of originality which shines across the twelve tracks on offer. And it is all very entertaining. 
This, their third long-player since 2014's Energy , displays how the band have progressed. From the first lick of "Don't Take Me Home", it becomes obvious that this band takes no shit and presents music the way they want to. The voice of Tiff Alkouri is direct, and tender, venomous and inspiring. She nails phrases as the band builds a wall of classic AOR behind her. "So Many Fishes" is a more modern take, atmospheric and addictive. Whereas "Magical Brew", is the anthemic, head shaking, light touch that makes this band so alluring. Moving into a more refined pace with "Undeniable". This acoustic, balladesque number is executed with passion. Though the rolling riffs or guitarist Jordan Lucas heralds the infectious "Getaway Song". 

There is that feel that you've experienced this type of music before and miss it. Fire Tiger pluck at the strings of nostalgia with tracks such as the
Bangles
styled "Silly Thing to Do", and the pumping title track which soars within the dense drama and keyboards of
James Ramsey
. Though "Flying Solo" has that Euro-Pop feel, the band can still manage an edge to maunovere their music away from the mundane. The rocker "Way To My Heart" is excellent, minimalistic but pounding, that same approach is significant in "Side of You". The slow, emotional number is a great piece of music, with flourishes of piano and that spirited vocal by Tiff makes it every inch appealing.
All The Time
comes to a smouldering end with "Spider at Midnight". The final banger from the bunch that kicks off with some nifty guitar work, before moving into a playground of instrumentation, fluttering between indie and classic rock. Ultimately it's hats off to Fire Tiger for not only releasing an album of this quality, but for doing so in a time when the world is engrossed in a pandemic. We, as music listener's need to encourage other bands to get the finger out and be fearless in putting out music at a time when people need a breath of fresh air in a storm of uncertainty. This album will not fall through the cracks but simply wet the appetite for their next move. 
Tracklist;
1. Don't Take Me Home
2. So Many Fishes
3. Magical Brew
4. Undeniable
5. Getaway Song
6. Silly Thing to Do
7.  All the Time 
8.  Solo Poquito 
9.  Flying Solo 
10.  Way to My Heart 
11.  Side of You 
12.  Spider at Midnight
For More Info; 
Website
Facebook
Twitter