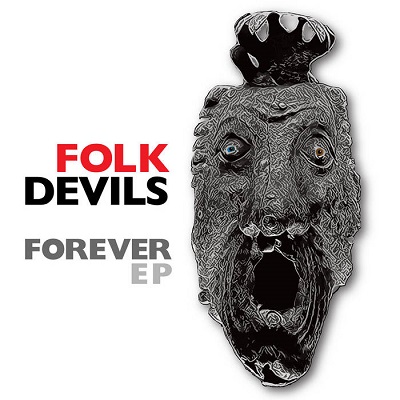 25 August 2020
This band has lay dormant for far too long. The Folk Devils detonated onto the UK music scene in the mid-eighties. A band who were born out of the ashes of Ski Patrol, and quickly became a live legend, opening for acts such as Nick Cave & The Bad Seeds, The Fall, and The Gun Club. With a handful of Ep's and singles, notably the Eps Beautiful Monster and Fire And Chrome, and one long-player Goodnight Irony, the Folk Devils imploded too early in their career. However, that now is not the end of the story. 
In 2015, via Beggars Banquet, a collection became available, The Best Protection and the BBC Sessions, this was followed by Beautiful Monsters (rarities+demos) via Optic Nerve in 2016, and a reactivation of the band in 2017 on the touring circuit. A reality some may not have expected, considering the tragic passing of founding member Ian Lowery in 2001. Nevertheless, they are now back, and sound as good as they did in their original incarnation. 
The first new music since 1987 comes in the form of the Forever Ep which contains three stunning tracks. The first track "Forever", and video release (see below) is a thundering, rampant piece of work. With a drum kit getting properly punished, while guitar licks rise and fall, all creating an atmospheric piece of post-punk in the 21st century. It is effortlessly addictive, truly the Folk Devils pump every ounce of energy they have into this four minute tour-de-force. This is followed by a reworking of an older track, "Ink Runs Dry", which now is updated sounding fresh. Finally another new composition in "My Slum Soul". A track that is partially gothic, and punctuated with a sneering vocal, it shows another dimension to what the band are capable of.
Honestly, The Folk Devils' sound exists on a scale somewhere between the Cult and Joy Division. They are not completely submerged in darkness, and inject riff after riff to build an impressive landscape. This set, recorded at the infamous Konk Studios in North London, and mixed/co-produced by Grammy Award-winning engineer Rik Simpson is really something special. As the Folk Devils are breathing new life, and appear to be on a mission, not just to finish where they left off, but to carve a further legacy and a new following. 

Tracklist; 
1.Forever 
2.Ink Runs Dry
3.My Slum Soul
Released on September 18th,
For more info, and to pre-order:
Bandcamp
Facebook