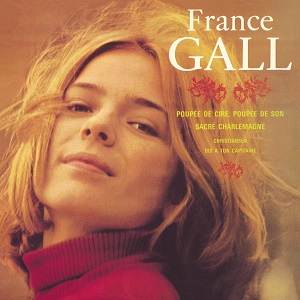 11 February 2020
To understand the importance of the latest reissues to come out of the Jack White stable Third Man Records, is to understand a sub-genre of sixties pop music. The latest batch of albums, by the late French starlet France Gall (Isabelle Geneviève Marie Anne Gall) provides listeners with a time capsule to a musical revolution that never caught on in North America. However, in post-WWII torn Europe, this became the barrier breaking, teenage craze which influenced a generation of female vocalists. After all, this girl jilted her boyfriend Claude François in 1965, inspiring him to write a mournful ballad about lost love called "Comme D'Habitude". With an English translation and a rewrite of the lyrics the song would become known as "My Way". 
France Gall first came to prominence as a part of the French yé-yé music scene, a style which incorporated the beat pop sound from the British Invasion groups, blended with more American rock and roll. The drawback of course of yé-yé hung in the language barrier, as the music was sung in the native French, and did not translate to wider audiences. Though as Serge Gainsbourg taught the world with his mega-hit "Je t'aime… moi non plus", language is no barrier to feeling. Every week in France a new songstress would arrive under the yé-yé spotlight, none transcendent more than France Gall, categorized in the same genre as so many other young women. The sound of Gall quickly became branded as more individual, and set her apart from the rest. 

France Gall's career began innocently at the age of fifteen in 1963 with her first single release -"Ne sois pas si bête". A short two-years later, she had gained notoriety winning the Eurovision Song Contest. From then on her career slowly strayed from the yé-yé movement, as her songs became more than just French covers of well known pop-songs. These were self-penned numbers from which her fire-laden, breathy voice would soar. With collaborations with noteworthy heavy hitters such as the aforementioned Gainsboroug. With a pulse of innuendo running through her work courtesy of Serge, notably on "Les Sucettes" (Lollipops). While the song was weighed down with blatant double-entendres, the naïve innocence of the teenage yé-yé singer was transformed beyond recognition, her career was hampered from here onward. Though never recovering fully, she continued to release and record albums up until 1996. She remains one of the most influential, and important figures to transcend yé-yé.
To celebrate the sound and success of Gall's early career, three of those albums will see vinyl releases on February 21st.
Baby Pop
,
1968
and
Poupée de Cire, Poupée de Son
will become available both in stores and from the Third Man Records website. The record company will also host a series of release day dance parties in select cities, where DJs will spin yé-yé and French psych-pop. Of the three albums,
Poupée de Cire, Poupée de Son
(1965) is perhaps the weakest, a trial run with big band orchestrations. The following years
Baby Pop
comes more fully formed, with an obvious maturity from the still very young Gall, who plays the sultry chanteuse perfectly. The final release
1968
may not be the most accessible release, but it certainly is a work of brilliance. A hybrid of pop and psychedelic music, that Gall twists into a playground of ethereal noise. In truth these releases act as a reminder of a long gone era, and an effervescent talent who sadly passed away in January 2018.
For more info and to pre-order;
Website