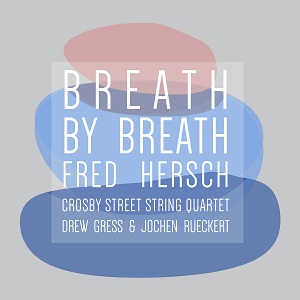 7 January 2022
Almost universally hailed as one of the greats of modern piano playing, Fred Hersch has a long and wide catalog of works both as leader and sideman. Breath By Breath, his latest, is inspired by two things: his personal meditation practice and his emergence from lockdown. For this project, he recruited longtime sideman Drew Gress (bass) and up-and-comer Jochen Rueckert (drums), as well as the Crosby Street Quartet on strings.
The bulk of the record is taken up by the eight-part "Sati Suite," a set of compositions directly related to his style of meditation. As such the pieces follow a sedate path, rarely pushing for the explosions of sound in which many piano trios indulge. Hersch really leans into his love of melody here, his piano work emphasizing an almost impossibly enticing tunefulness on "Rising, Falling" and "Awakened Heart." Arranged tastefully, sometimes even sparsely, the strings perfectly compliment the songs, adding an almost spiritual atmosphere – especially on "Know What You Are," which cedes the stage to the strings alone.
That's not to say that there's no energy in the playing, however. "Begin Again" rides a subtle but undeniable swing that keeps the piece moving irrevocably forward, "Mara" – featuring guest percussionist Rogerio Boccato – injects an overt restlessness that affects even the strings. Representing the way the brain churns against attempts to calm it, "Monkey Mind" uses a call and response format, with piano, bass and strings passing the bars back and forth for expressions often whimsical, even playful. "Worldly Winds" ends the suite with a swinging waltz that brings the music (and the mind) back to wakefulness and activity, refreshed by the experience.
Hersch ends the record with "Pastorale (homáge a Robert Schumann)," a piece unrelated to the suite's concept, but perfectly in line with its musical aesthetic. It caps off a beautiful record of lush melodics and serene atmosphere, with appeal beyond either jazz fans or meditation fans.