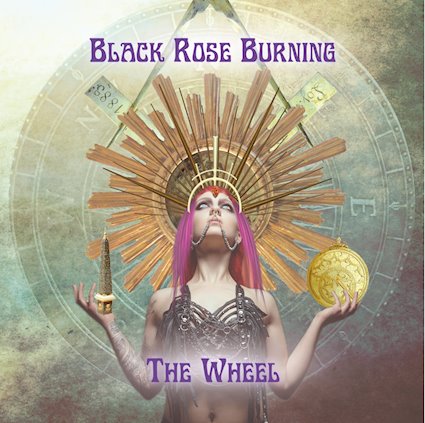 6 January 2022
If you want to know what goth is up to these days then you need to look no further than this latest, second album from Black Rose Burning. Back in the day, and I know because I was there, the promising goth scene that had looked so promising in the opening years of the eighties, had by the end of that decade taken some odd turns. Either you were a spikey, darkwave band, wedded to the newly emerging keyboard technologies or you had gone the low-slung guitar route with the added addition of heightened, amateur dramatic level theatrics.
Had Black Rose Burning been around then, they would have cleaned up as The Wheel is the perfect marriage of the two styles, and more besides. Taking a healthy dose of darkwave electronics to act as a platform for the songs but careful to avoid the cold clinical chill that many in their genre embraced, they coat this with the sort of riff and deft sonic ornamentation of the early Cult, the angular beauty of The Cure, perhaps even a touch of Ultravox's new wave leanings and drive it along with solid and satisfying beats. And these two opposites are what makes the real attraction.
"Black Sun Saturday" is both bleak and accessible in the way that only goth music ….or post-punk or alt-rock or whatever you prefer to call this… can be and "Every Single Time" is the best alt-dance groover to never make the mainstream charts, unfortunately. There is room for more reserved and considered tracks such as "Lightspeed", chugging, growlers such as "Antonia", and even a wonderfully reworked version of The Buzzcocks' "Ever Fallen In Love?"
If you are one of those people who wander around saying that music is not as good as it used to be, particularly if you do so dressed in black and favoring Nu-rocks and eye-line, cider and black, and the works of the Romantic Poets, then this is for you. And if you don't care about the past and are just looking for some cool and well-crafted new music to get into. Again, this is for you. In fact, it doesn't matter who you are, just buy the damn album, you can thank me later.