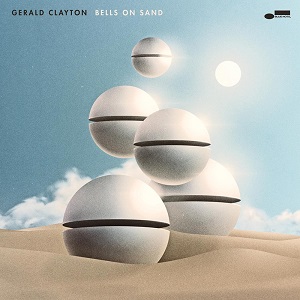 30 March 2022
Gerald Clayton's last album for Blue Note was the joyous concert record Happening: Live at the Village Vanguard, which served as a clearing of the decks. That means it's time for a Major Artistic Statement, which the pianist/composer delivers with Bells of Sand. Joined by drummer Justin Brown, saxophonist and mentor Charles Lloyd, singer MARO and his father and bassist John Clayton, the keyboardist presents a wide-ranging program displaying his talents as composer, player, interpreter and visionary.
Clayton begins the record in acoustic mode with "Water's Edge," a lovely ballad featuring his father on arco bass. While sticking with the same atmospheric arrangements, he moves into "Elegia" and "Damunt de tu Només les Flors," a pair of bewitching tunes from Catalan composer Federico Mompou that blend a classical sense of melody to jazz harmonics; MARO adds silky vocals to "Damunt." A two-part solo rendition of the Richard Whiting standard "My Ideal" serves to bracket a midpoint brace of originals, including the mildly funky and electric piano-driven "That Roy" and the ethereal ballad "Just a Dream," with lyrics by Clayton and plush singing from MARO. Clayton moves the proceedings into even more luminous territory for "Peace Invocation," a duet with Lloyd that sounds like it could have come from one of the latter's records, such is its soulful entreaty for higher ideals. That feel just goes deeper on the closing track, an unaccompanied massage of Gerald's uncle Jeff's gorgeous blues poem "There is Music Where You're Going My Friends."
Despite pulling from diverse sources, Clayton maintains a consistent vision throughout the record, one that evokes compassion, empathy and beneficence toward the universe, while still containing the vibrancy of jazz. Bells of Sand clearly stands as the next step in Gerald Clayton's exciting evolution.