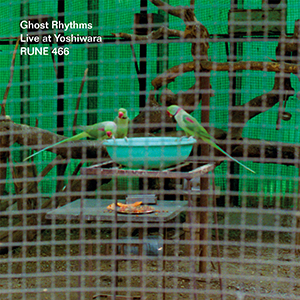 10 December 2019
Since it rarely ventures outside of the Paris area, let alone France itself, instrumental ensemble Ghost Rhythms has built its international reputation quietly, going often unnoticed by a potentially global cult audience. That hasn't stopped it from celebrating its tenth anniversary with Live at Yoshiwara. Led by drummer Xavier Gélard and pianist Camille Petit, the band – with no full-time musicians or fixed lineup, but here a ten-piece – performs a (mostly) brand new setlist of songs to a select audience in its rehearsal space.
"La Chose," one of only two previously-released songs, and here rearranged into a different form than the original, sets the tone. The tune, written by Gélard and Petit, uses jazz as its base, though it incorporates elements of progressive rock as well. Saxophones, guitars, cello, piano, accordion and percussion come together in an intricately arranged dance that combines improvisational energy with compositional rigor. Gélard's "Kamaloka" brings in a French chanson feel as well as Baltic folk elements, setting up a repetitive groove lushly colored by the group's multi-instrumental facility. The drums get especially jazzy and Alexis Collin's squeezebox takes a prominent role. Saxophonist David Rousselet contributes "Circumambulation," a ballad of sorts driven by horns, acoustic guitar and accordion that features a lengthy conga solo from percussionist Morgan Lowenstein. A funk feel permeates "Xanadu," written by guitarist Guillaume Aventurin, while "Charivari," composed by bassist Gregory Kosovski, almost slinks through its minor-key melody, the instrumentalists keeping their performances subdued.
The band closes out the set with Gélard and Petit's epic "Chambre Claire," which begins with beautiful solo cello before ripping into speedy avant-jazz, with a driving rhythm emulating a busy street, and accordion achieving parity with piano as a solo instrument. The tracks are reminiscent of composer Carla Bley, whose often cheeky sublimations of other genres allows her to create jazz fusion that doesn't sound like jazz fusion – a difficult balancing act that Ghost Rhythms has clearly mastered.
Eagled-eyed film fans will recognize the "venue" as a club from director Fritz Lang's Metropolis. That and liner notes that list performances taking place at "Cabaret Voltaire, Zurich, 1916" and at "200 Motels, Los Angeles, 1971," not to mention "A Dream, Baltimore, 1849," indicate a certain irreverence in outlook – always a welcome development in music this skillfully written and performed. Live at Yoshiwara is music made at a high level, but with an accessibility and humor that makes it cracking entertainment as much as high art.