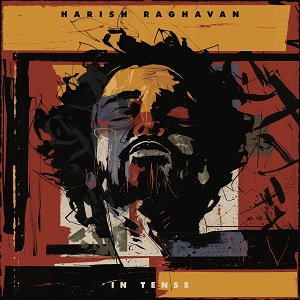 29 July 2022
Like a lot of bassists, Harish Raghavan has made a name for himself as a sideperson to quite a few notables: Walter Smith III, Vijay Iyer, Ambrose Akinmusire, Kurt Elling and more. With In Tense, his second album as a leader, he's staked a claim as one of modern jazz's most interesting composers and bandleaders as well.
Fronting an excellent band, including guitarist Charles Altura (Chick Corea, Terence Blanchard), drummer Eric Harland (Charles Lloyd, Dave Holland), vibist Joel Ross (Marquis Hill, his own solo career) and woodwindist Morgan Guerin (Terri Lyne Carrington, Esperanza Spalding), Raghavan refurbishes post bop in his own image. Inspired, like so many others, by the turbulent times of the past couple of years, Raghavan takes his title to heart – check out the unsettling textures in the seemingly lush balladry of the title track, or the spiraling astriction in the energy-spewing "Circus Music," or the way Altura and Ross seem to climb all over each other during "s2020." That's not to say the musicians don't do their best to break the tension – Altura's aggressive soloing on "s2020" and Ross's luminous marimba on "In Tense" cut nicely through the thick air.
The insistent grooves and overt love of melody from the leader himself break the spell from time to time, and he pours a sleek blend of optimism and defiance into the closing track "Prayer." Raghavan knows that it's not easy to de-stress in an era of political and personal turmoil, and In Tense embodies the discomfort of the late 2020s while still insisting that we keep on keepin' on.