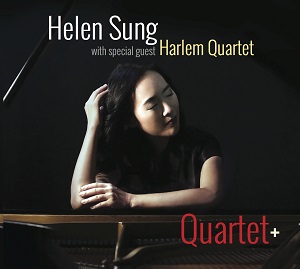 30 September 2021
For her seventh album as a leader, pianist Helen Sung fields a double-pronged concept. Quartet+ takes some of Sung's favorite compositions by other women composers, including Carla Bley, Geri Allen, Marian McPartland, Toshiko Akiyoshi and Mary Lou Williams, and blends them with her own work, giving us a peek into important influences. But it also pairs Sung and her sidefolks – including bassist David Wong, drummer Kendrick Scott and sax 'n' flute master John Ellis – with the Harlem Quartet string quartet, thus allowing her to reconnect with her classical training.
Sung sounds perfectly at home on Allen's opener "Feed the Fire," as comfortable with the luminous melody as she is with the controlled aggression of the attack. Almost a duet with Ellis's flute, Sung's "Elegy" takes in classical fingerwork, Latin rhythms, percussive strings and a tune that spirals gracefully between the sky and the ground. The HQ drops in and out of Sung's cover of Akiyoshi's harmonically wandering "Long Yellow Road," punctuating the swing at just the right moments and laying back when not required. Her take on Bley's "Wrong Key Donkey" conveys all the whimsy embedded in so many Bley pieces through sharply hit notes and a deep understanding that humor in jazz doesn't always mean jokes. Perhaps the most impressive version of her idols' music appears in "Melancholy – Kaleidoscope," her mashup of two McPartland songs that crackle with energy and melodic flair.
While the multi-pronged original "Lament For Kaleif Browder" shows Sung at her most musically and thematically ambitious, the album's masterpiece has to be her "Time Loops," which shifts tempos and time signatures, pushing the strings between taste and madness, but retains the elegant structure of her block chording and the rhythm section's nimble glide. Working with jazz violin maverick and co-producer Regina Carter, Sung and her cohorts have crafted a superb record that doesn't so much push the boundaries of jazz as make clear how much discovery there still is within its borders.