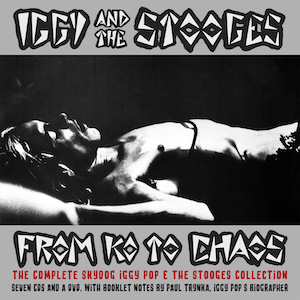 20 January 2021
Through endless ups and downs, personal and creative, over the course of more than a half-century (!), Iggy Pop has resolutely remained his same compelling self. Since the very beginning, the former James Osterberg has embodied the noble beast searching for meaning in the modern world, portraying a combustible mixture of probing intellect and burning animal appetite.
Taking a cue from the title of his 1997 memoir, "I Need More," From KO to Chaos gathers up enough Iggy (with and without Stooges) to satisfy the hungriest of the hardcore, collecting seven CDs and a DVD issued by the great indie French label Skydog.
The range is impressive. Three discs of chaotic, low-fi live recordings from '73 and '74 capture the Stooges in their death throes, at war with themselves and the audience. Two essential discs of odds'n'sods include the scorching '72 classics "I Got a Right" and "Gimme Some Skin," '81's "The Winter of My Discontent," a ramshackle, ten-minute existential raveup, and a host of vital covers, among them "96 Tears" and "Waiting for My Man." Bracing 1993 acoustic performances offer a reminder that this peerless punk shouter is also a deceptively musical singer with more than a trace of Frank Sinatra and Jim Morrison in his DNA. Finally, a 2004 live recording of the reunited Stooges finds the boys respectable at last, now more polished than dangerous, but still fiery and exhilarating.
Iggy Pop's major-label releases tell only part of his long and winding saga. Profound and profane, From KO to Chaos fills in the story of this singular force of nature, a restless philosopher disguised as a wild-eyed badass.