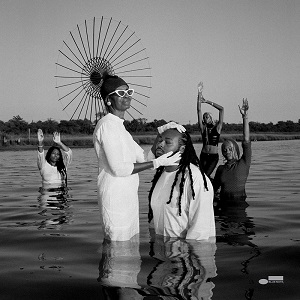 28 January 2022
Having gotten his introduction out of the way with 2020's Omega, the usual explosion of talent a hotly tipped young musician is obligated to display on a debut record, alto saxophonist Immanuel Wilkins returns with its follow-up, The 7th Hand. Joined by drummer Kweku Sumbry, bassist Daryl Johns* and the remarkable young pianist Micah Thomas, the Philadelphia native focuses on his artistry on his sophomore effort.
With a broad sense of what he wants to communicate and a finely honed sense of craft, Wilkins composes a multi-part suite intended to be performed as a whole, with each piece picking up where the last left off. Thus the African percussion-kissed "Don't Break" shifts to the stately ballad "Fugitive Ritual, Selah," which in turn sets up the minimalist walk "Shadow," and so on. Throughout, he explores the African-American jazz experience without doing anything so simplistic as marking each tune by a stylistic diversion. Wilkins and the band may move fast or slow, toward the edge or the center, but the tracks all sound like they're coming from the same place – a deeply spiritual, yet intellectually curious dimension. That doesn't mean there's anything clinical to these performances; Wilkins' creamy tone and graceful agility convey a sheer musicality that shines regardless of complexity, and the band's telepathic interplay indicates the participants' thorough enjoyment of what they do. But the players never lose sight of the conceptual craft inherent in the writing, whether it's in the melodic accessibility of "Emanation" or the playfully energized free verse of "Lift."
The 7th Hand both acknowledges tradition and uses it as a springboard for its creator's own ideas, making it easy to see why Wilkins' arrival was greeted with such a massive amount of hype. But Wilkins is no one's jazz savior; instead he's an artist with a clear vision and the authority and skill to deliver it without riding any tradition's coattails.