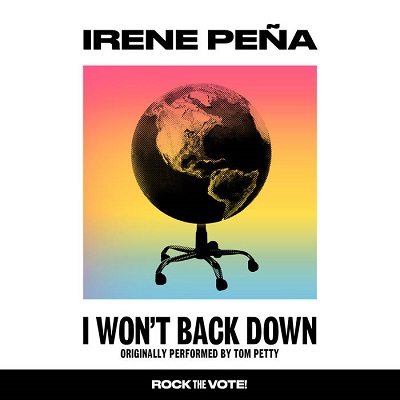 21 August 2020
In mid June, the late Tom Petty's '89 classic "I Won't Back Down" was misused at 'a' political rally. This was followed by a cease and desist letter issued by the Petty Family Estate. In a statement the Family reiterated the ideals of the late troubadour-
"Both the late Tom Petty and his family firmly stand against racism and discrimination of any kind. Tom Petty would not want a song of his used for a campaign of hate. He liked to bring people together".
With all that in mind, Californian singer-songwriter Irene Peña today releases a version of "I Won't Back Down" to benefit #RockTheVote. You will never better Tom Petty, you can only pay homage, and this is what Irene has done here. It is a cracking version, with more urgency than the original. The chorus is wondrous, Irene Peña has the talent to sing with a defiance, then turn angelic and hit those high notes wonderfully. At the same time the singer is showing her support to the Petty Family, to keep the original premise of "I Won't Back Down" intact and disconnected from hate. 
There is something else here though, an original penned 'B' side by Irene. "Own Sweet Time" gives listeners an insight into the divine talent the lady has to write a song of depth, and uplifting quality. This is a great release, with a solid motivation behind it that we can all get behind. 
To order and support: 
Bandcamp 
Facebook
Rock The Vote:
Website