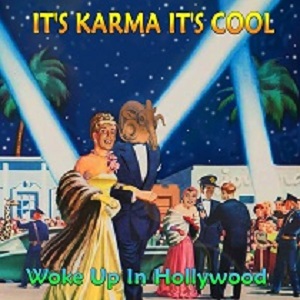 6 May 2020
The UK band It's Karma It's Cool are something of an anomaly. While they are based under a British skyline, their sound is not bound to that of other British outfits. It is instead a more stateside power pop affair, executed with a heavy dose of authentication, by members James Styring, Martyn Bewick, Mikey Barraclough, and Danny Krash. 
Their unique quality was fully on show in last year's Ep release Hipsters and Aeroplanes. Now on May 15th comes their debut long-player Woke Up In Hollywood. What may seem on the surface a conceptual release may in fact not be, but the tracks blend together, telling stories through clever, witty lyrics, and some fine guitar playing. All coming together to forge an exceptionally stylish album.   
An album that stutters to begin with the guitar crank power pop of "Our Love Is An Amplifier". Followed by the bass, drum driven "Bubblegum Monsters" (included below), the vocals are sublime not far from Mike Scott sounding. But with lyrics from another age. Pointed to, in the reflective "Back In '78". A nostalgic piece of finery, with enough musical context to become instantly foot-tapping. 
The enjoyment continues upbeat with the rolling guitar lines of the title track. This band would not be out of place in the mix of Hollywood. They have captured a sound, without copying it. Though offering other dimensions in the acoustic, and electric sparks of the uplifting "Wooden Buddah". The midpoint "The Girl Who Gave You Everything" mlxes glam rock with California warmth, and features some impressive intervention from Lannie Flowers. "American Sushi" springs to life with the feel of Tom Petty, gushing with melody and restrained verses that erupt in a flourishing chorus. "Healer's Leap" has a vibe of old school Merseybeat with 21st century lyrics. Made all the better by a 12-string jangle courtesy of The Armoires Rex Broome.
The flow turns a corner with "Battle of Burnt Out Bliss", an emotional ode to a bygone time, with a wall of acoustics, piano and strings. With Spanish guitar solo aches to be heard, this is a cracker and indeed standout. Although the electricity ignites with the closing "Sunflowers", a dramatic ending that leaves the listener more than satisfied. All this can be summarized as uncomplicated enjoyment, expertly crafted to uplift an audience. It's Karma It's Cool are on the threshold of a promising career. Staying on their present course will reap deserved attention, for now however Woke Up In Hollywood is a slick, enjoyable feast for fans. 
Tracklist:
1.Our Love Is An Amplifier    
2.Bubblegum Monsters (included below)   
3.Back In '78    
4.Woke Up In Hollywood 
5.Wooden Buddah    
6.The Girl Who Gave You Everything    
7.American Sushi 
8.New Age Eve    
9.Healer's Leap    
10.Ghosts of Rome   
11.Battle of Burnt Out Bliss    
12.Sunflowers 
For More Info, And To Order: 
Bandcamp
Facebook