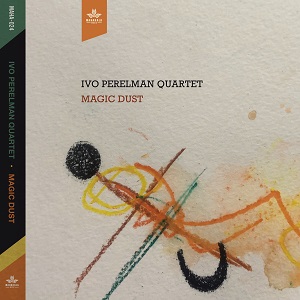 8 April 2022
At this point, calling saxophonist Ivo Perelman restless is a cliché. Though the Sao Paulo-born/New York City-based musicmaker is constantly on the move for new challenges, he's no dilettante – think of him more as an artist with a relentless creative mind, always looking toward the next outlet to showcase his seemingly endless fountain of music. His habit of presenting the results of his endeavors unedited and unfiltered can make his records demanding, but Perelman assumes his audience has enough musical intelligence to handle whatever he can throw at us, and that assumption itself commands respect. The beginning of 2022, then, brings not one, but two new projects, both with two very different quartets.
A daring nod to the tradition of all-saxophone bands like ROVA and the World Saxophone Quartet, DIVO gathers Perelman on tenor, Tony Malaby on soprano, Tim Berne on alto, and James Carter on baritone. Everyone here has played a variety of different musics – in the case of the eclectic Carter, also a diversity of saxes themselves – and has a lot of stylistic permutations to bring to the table. But none of the players foreground their experience, for one simple reason: every note here is extemporaneous. From the furious firestorms of "Part Two" and "Part Four" to the close harmonies of "Part Two" and "Part Six," the four veterans trust in their ears and their talent, sublimating their individual skills in service of a unified, audacious and formidable whole. To be sure, the going can be arduous, as no one involved shies away from unpleasant noises. But Perelman and company are so committed to the presentation of unfettered expression that you have to admire it.
Magic Dust puts Perelman within the borders of the more traditional jazz quartet. Of course, one glance at the personnel signals that this is no swingin' hard bop date – drummer Chad Anderson, pianist Christopher Parker and legendary bass wizard William Parker aren't known for the polite pursuit of jazz Grammys. Balancing the structural focus of avant composition with the risky attack of free improvisation, the four tracks on this double album ripple with energy and excitement. Check out "Way of the Magician," on which the quartet takes minimalist post bop melody and turns it inside out, moving from freight train bombast to pastoral meditation to bluesy brooding. Anderson plays around the beat without losing the rhythm, Christopher Parker keeps the proceedings stable with his ringing comp work, and William Parker shifts from throbbing walking bass to atmospheric arco so subtly it's almost sleight of hand. The boss responds to it all with some of his most vibrant and soulful playing to date, squealing, moaning and humming as the tune requires. The cut is nearly 39 minutes long, which is plenty of time to encompass any mood that strikes their collective fancy, but thanks to the musicians' sympathetic improvisational creativity, it never gets tedious. From quiet to loud, chaotic to bucolic, discordant to lyrical, the other sixty minutes of music follows suit, never letting the spirit of spontaneous artistry flag.
Perelman's music sets out to challenge us, to accept these expressions of self on the part of the performers without expectations or internal editing. Either IVO or Magic Dust might be too much for some folks, but both reveal a deep commitment to unfettered artistry, and that in itself makes these albums worth support.